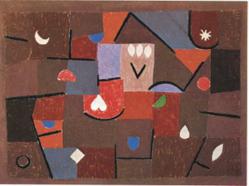 One of the most highly anticipated art exhibits in Düsseldorf
Düsseldorf, Germany (PRWEB) August 07, 2012
One of the most highly anticipated art exhibits in Düsseldorf is the first showing of the entire collection of 100 pieces by Paul Klee held by the State of North Rhine Westphalia. The exhibit, called "100 x Paul Klee – Paintings and their Stories" (September 29, 2012 – February, 10, 2013), will be shown at K21, one of two Düsseldorf museums that house the State's world-renowned collection of modern art.
The collection, which was started in 1960 with the purchase of 88 of the artist's works, includes paintings, drawings, watercolors and other color media. It not only gives a unique perspective into the eclectic approach and inexhaustible creativity of Klee, but is also a fascinating look at the initiatives of its collectors and the elements of politics and diplomacy in a collection of this scope.
Klee (1879 -1940), one of the most influential artists in cubism, expressionism and surrealism and member of Bauhaus school, taught at Düsseldorf's Art Academy in the early 1930s, until he emigrated in 1933 under the pressures of the Nazi regime. His works reflect his acute analytical sense and sharp eye for contemporary events, and create a universe of tragicomedy, irony, gravity and lightness, pleasure and pain.
K21 is one of two Düsseldorf museums that house the State of North Rhine Westphalia's modern art collection and features mainly post modern and contemporary art, artist's rooms, installations and new media. In addition to Klee's works, the entire collection includes pieces by German artists Gerhard Richter and Joseph Beuys, important examples of American art after 1945 as well as art from the early 20th century, such as works by Pablo Picasso and Piet Mondrian, which are shown at K20.
For more information on "100 x Paul Klee," visit http://www.kunstsammlung.de.
The Paul Klee Exhibit at K21 is one of several major art exhibits happening in Düsseldorf this fall, and the city's tourism office is offering hotel and city specials through 2013.
The Paul Klee Package can be booked right from the tourism office's website http://www.duesseldorf-tourismus.de/klee. Prices start at €59 per night per person based on double-occupancy for a 2-3 star hotel in the city center and at €99 per person for a 4-star hotel. All packages include breakfast, a 1-day ticket to the Paul Klee exhibit, a Düsseldorf Welcome Card (free public transportation within city limits, plus 50 free or reduced admissions to city attractions), and a city information package.
Düsseldorf Marketing & Tourism GmbH is the visitors and convention bureau of the city of Düsseldorf. Its responsibilities include tourism and city marketing, as well as conference and meeting marketing, hotel reservation services, fairs and convention services, city event ticket sales and advance ticket reservations. For more information, visit http://www.visitduesseldorf.de.
Düsseldorf International Airport, Germany's Next Generation HubTM, offers several non-stop flights from US & Canadian cities (Atlanta, Chicago, Ft. Myers, Las Vegas, Los Angeles, Miami, New York, Newark, Toronto, San Francisco, Vancouver), as well as convenient connections to many European cities. For more information about the airport, visit http://www.duesseldorf-airport.com.