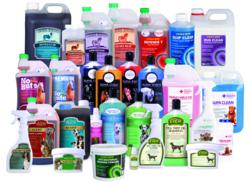 London (PRWEB UK) 7 August 2012
Since it's inception in 1990, The Animal Health Company has grown from a small canine health and hygiene business to a trusted market leader of complementary health supplements for pets, specifically dogs and horses. The continual expansion of The Animal Health Company resulted in the creation of a number of products that boasted different benefits for dogs and horses. Their expanding product ranges all required restructuring and brand development in order to build a customer base and distinguish themselves in the competitive pet product marketplace.
Branding agency and graphic designers, Graphic Evidence, successfully branded each range and the many products within them. The newly branded ranges include: NoBute, OzOil, Health & Herbal, StableZone, Grooms Choice, Animal Health Company, Grooming for Excellence and Animal Hygiene Range. As a result, the categorization and clean, consistent brand design for each of their ever-expanding ranges has made their products extremely consumer-friendly and clearly recognisable as part of the pet product industry.
Additionally, The Animal Health Company has employed Graphic Evidence's skills in the realm of PR. Aside from social and digital marketing, media planning and advertising design; Graphic Evidence have successfully implemented a number of hugely successful product launches for The Animal Health Company. The working relationship between Graphic Evidence and The Animal Health Company looks set to grow as The Animal Health Company plan to create products for poultry owners and new feed ranges for the equine and canine sectors.
With a long history of success in creating powerful brands that 'work' in their given marketplace, Graphic Evidence carefully consider a number of areas when undertaking a branding project. Graphic Evidence take the time to get the know the marketplace in which each business belongs in order to place brands correctly in the minds of targeted consumers. Each brand must represent the company's values and stand out from competitors; the unique, distinguishable and successful brands created by Graphic Evidence prove that they are experts in creating and developing powerful brands.
Graphic Evidence are a creative branding agency, please visit http://www.graphicevidence.co.uk to find out more about their services.