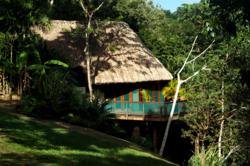 For the August 7 Super Tuesday Chaa Creek is offering 30 per cent discounts on all accommodation booked for the months of September and October.
(PRWEB) August 06, 2012
On August 7 1498 Christopher Columbus arrived in the Caribbean, an occasion The Lodge at Chaa Creek is celebrating with another surprise Super Tuesday Belize vacation discount deal, Marketing Administrator Larry Waight announced today.
Mr Waight pointed out that August 7 also marks the halfway point of summer in the northern hemisphere, giving the popular eco resort all the more reason to celebrate.
"People keep asking us when the next Super Tuesday will be held, but the whole point of the exercise is to combine the great discounts with the element of surprise, so we waited to spring it on the anniversary of the arrival of the Caribbean's first tourist, Christopher Columbus and his party of sun seekers," Mr Waight said.
"We also realised that, according to the authoritative Wikipedia, August 7 marks the halfway point through summer, and since this is the summer of 2012 after all, it was another reason to launch our amazing Super Tuesday discounts, but this time with a twist," he added.
For the August 7 Super Tuesday Chaa Creek is offering 30 per cent discounts on all accommodation booked for the months of September and October with the proviso that, like all Super Tuesday Belize vacation deals, bookings are made between midnight Monday August 6 and Midnight Tuesday August 7 2012, Mr Waight explained.
"Once again, it's a small window with huge savings,' Mr Waight said. "Once you're booked into Chaa Creek, you have 365 acres of pristine rainforest to enjoy in countless different ways. Canoe the lovely Macal River, hike, horseback or mountain bike through miles of secure, well maintained jungle trails, visit our renowned Natural History Centre, Blue Morpho Butterfly Breeding Farm, Hilltop Spa, the Maya Medicinal Plant Trail, Maya Organic Farm or any of the 70 ancient Maya archaeological sites dotting our private rainforest reserve, including the ancient Maya Temple of Tunchilen .
"If you consider how many things there are to do at Chaa Creek, and then factor in a 30% discount on all accommodation, from our signature thatch roof cottage rooms to the luxurious Tree Top or private Jacuzzi suites, you're looking at the most affordable luxury vacation to be had anywhere. Even just lounging around the pool or swinging in the hammock with a cool drink and a good book becomes an inexpensive Belize vacation deal that no one else can match," he said.
Mr Waight stressed that only bookings made between midnight Monday to midnight Tuesday will attract the 30% discounts and encouraged would-be guests to act quickly. "If you've ever thought about taking a Belizean holiday and discovering why various celebrities and even members of the royal family such as Prince Harry choose Chaa Creek as the best place to stay in Belize, now is the time. It's been over 500 years since Columbus became the Caribbean's first tourist and it's still just as beautiful and romantic as it's ever been. And with the Super Tuesday Belize vacation specials, you don't need a royal fortune to experience it at its best," he said.