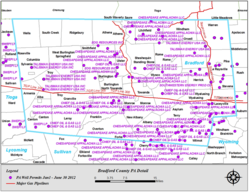 A complete snapshot of what's happening in the Marcellus and Utica Shale plays – in one book
Binghamton, NY (PRWEB) August 07, 2012
Marcellus Drilling News announces the release of Volume 2 of the Marcellus and Utica Shale Databook 2012. The 3-volume Databook set, available as downloadable PDF files, includes everything the reader needs to understand the Marcellus and Utica Shale: where it's happening, where it's going, who's involved.
The 115-page Volume 2 contains 79 full-page maps, including detailed maps for every county in Pennsylvania, Ohio and West Virginia where there is active permitting and drilling for Marcellus and Utica Shale gas and oil wells. Each county map pinpoints the location of permits for Marcellus and Utica wells and shows major natural gas pipelines running through the county. Individual drillers are identified, as well as drilling locations by township.
Volume 2 of the Databook includes several new sections, including a new collection of state maps for PA, OH, WV, NY and MD showing where both the Marcellus and Utica Shale formations are located within the state. Counties are identified on the shale play map in each state, allowing a quick view reference of Marcellus and Utica Shale boundaries. Also unique to Volume 2 is a complete list of all New York State townships that have either voted to ban hydraulic fracturing ("fracking"), or have voted to support drilling. This section is important given soon-to-be-released new drilling regulations in New York. Finally, Volume 2 includes a comprehensive new directory of landowner coalitions throughout the Marcellus and Utica region, including contact details for each coalition.
Landowners use the Databook to see if there is drilling in their area, and if so, who is doing the drilling. The Databook will helps them understand what is happening and where. Businesses can use the Databook to visualize development patterns in the Marcellus and Utica Shale plays and how and where they can participate in supply chain opportunities.
Full details for Databook volumes 1 & 2 are available at: http://MarcellusDrilling.com/Databook
The Databook is co-authored and published by Marcellus Drilling News and ShaleNavigator.
Marcellus Drilling News (MarcellusDrilling.com) is an online news service dedicated to bringing news and resources to landowners and businesses in the Marcellus and Utica Shale (Appalachian) region of the United States.
ShaleNavigator (ShaleNavigator.com) is a web-based mapping solution that displays information specific to the leasing and development of shale plays in the United States, with particular focus on Marcellus and Utica development activity.
NOTE FOR MEDIA: Members of the media interested in reviewing the Marcellus and Utica Shale Databook 2012 may request a complimentary review copy here: http://MarcellusDrilling.com/Databook/Media