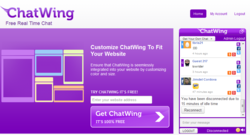 Cambridge, MA (PRWEB) August 07, 2012
Finding a professional solution for any online business woe can be tedious for many people, and this fact has become the core of Chatwing's mission. Chatwing—a development company adept in making chat apps—has recently introduced a global chat box that can offer a strong bridge of communication for everyone. This recent chat tool can be installed to most blogs and websites, allowing bloggers and visitors to have real-time interaction. Chatwing's latest application also allows direct link URL for centralized chat.
Chatwing's direct link URL feature allows people to send a shortlink to others. According to Chatwing's developers, this is a more private approach to real-time chat. This is useful for users who want to communicate with selected groups of people, rather than go large-scale. Because of this option, some bloggers have thought of the Chatwing chatbox as an application that can find the right target market. Additionally, Chatwing also has a social media interaction feature; with this, users and visitors of the free chatbox can login with their Facebook or Twitter accounts. The Guest option is also allowed—guests can pick up their names and select from an array of avatars to use.
Chatwing's developers have also tweaked the chat platform so that users can install the free chat widget easily. Chatwing research has indicated that the average installation time runs from ten to twenty seconds, depending on the preferences of the user. After registering his blog's domain name, the user can now select the type of chat box: regular shoutbox, pop-up window, or the direct URL style. All three options have various advantages and usage. Once the selection has been made, the user can now edit the appearance of the widget. The user can select from a wide range of color hues. Afterwards, Chatwing will generate the necessary HTML code.
The Chatwing development team has always been dedicated to the improvement of blogging, web surfing, online marketing, and online communication. To mirror this dedication, Chatwing's developers are working hard in upgrading the platform and researching the needs of people across the Internet. Chatwing also has a Facebook page that is occasionally filled with informational and interesting content.
About Chatwing.com
Chatwing.com specializes in the new field of website chat. Over years, the Chatwing team has introduced live chat widget for hundreds and thousands of blogs. The Chatwing application bridges people from many parts of the world, creating global synergy through the Internet. The shout box can be installed in just seconds, and it can be used for varying purposes such as leisure and Internet marketing. It also allows a user to customize the size, color, and name of the widget. Chatwing is 100% free for everyone.