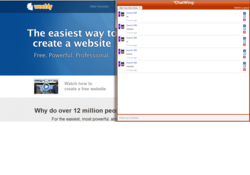 Miami, FL (PRWEB) August 07, 2012
Travel bloggers in the Weebly community will now benefit from the communication leverage offered by Chatwing development team. Chatwing has recently launched a global chat box that is loaded with online features that can allow people to communicate with each other at a better rate. Moreover, the Chatwing chat app can also improve the visibility of any blog or website. Travel bloggers in Weebly can also use the Chatwing application to interact with their visitors and share updates in real time.
Travel is considered as a strong blogging niche, not only in Weebly, but in other communities as well. This is because of the fact that many people travel to different places every now and then. A travel blog can help people become familiarized with the place they want to visit. As Chatwing team realized this fact, the developers have introduced the free chat box right away. Visitors of travel blogs who used Chatwing were able to get quick information about certain travel hot spots. These information range from ticket prices, culture in the target place, price of commodities, activities to do, and the overall sanitation status of the place.
Some travel blog visitors also took the opportunity to share their past travel experiences in the Chatwing chat widget. Chatwing's social media integration has also allowed users to log in with their Facebook or Twitter accounts—a feature that can truly help anyone create a strong network of friends and acquaintances. This feature has also contributed to Chatwing's overall rank in the blogosphere. Users of the free chat box also have full conversation control; they can set profanity filters and they can even delete messages in just one click.
Chatwing's developers are planning to introduce more features to ensure that users will have an entertaining website chat to look forward to. The dev team is also maintaining a Chatwing blog that frequently discusses important content about the free chat widget. Most of the content posts tackle installation tutorials, overall benefits of Chatwing, and effects of real-time communication for any blog.
About Chatwing.com
Chatwing.com specializes in the new field of website chat. Over years, the Chatwing team has introduced live chatbox for hundreds and thousands of blogs. The Chatwing application bridges people from many parts of the world, creating global synergy through the Internet. The shout box can be installed in just seconds, and it can be used for varying purposes such as leisure and Internet marketing. It also allows a user to customize the size, color, and name of the widget. Chatwing is 100% free for everyone.