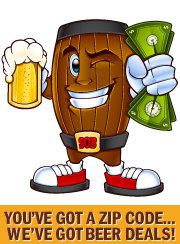 Houston, TX (PRWEB) August 08, 2012
Statistically speaking, the cost of beer rises once the summer rush is over. Anheuser-Busch beers like Budweiser, Bud Light Platinum and Bud Light Lime went up 3-5 percent in cost last fall. This September, executives say the price of a case will go up a good 55 to 75 cents. It's likely other beer companies will follow suit. MillerCoors, for instance, typically follows suit with its biggest competitor. Since most beer is purchased between May and August, prices decrease. Consumers won't see a reprieve until mid-March for St. Patrick's Day, say the founders of SaveOnBrew.com, the world's only beer price tracking website.
"For most products, prices go up when demand is high," explains SaveOnBrew's Mark Davidson. "However, beer is a discretionary purchase, so it doesn't really work that way. Beer companies know they can lure consumers into buying, say two cases instead of one, if they offer a rebate or sale. With so many beer-worthy activities and backyard gatherings taking place all summer long, it makes more sense to convince people they need to 'stock up' and indulge this time of year."
For craft brewers, there are other market forces at play. This year has seen record droughts across America that have severely injured the nation's hops and barley crops. Jim Koch, founder of Sam Adams, says his company had to raise their prices 3 percent in 2012 to help offset the skyrocketing cost of their raw ingredients. Next year, the company is "probably looking at the same [increase] or maybe more," he says. Smaller brewers like Allagash say they must increase prices by at least 50 cents in the coming months.
"Our retailers indicate that they see prices go up 50 cents to $1 every autumn like clockwork," says Davidson. "Knowing this can help beer drinkers save money by stocking up in August. Typically, a lager will remain fresh 4 months. Stronger craft-brewed ales could last 5 months, but high-strength beers like doppelbocks can last 6 to 12 months in storage without going stale."
Some American beer labels have "born on" dates – like Anheuser-Busch products, for example. Sam Adams offers a "consume by" date, which is generally 3-4 months after purchase. Bottle-conditioned beers that contain living yeast can be stored at room temperature out of direct sunlight for up to 5 years, so products offered by Sierra Nevada, Lagunitas, and Jolly Pumpkin are safe bets, as are most Belgian wheat beers.
For proper storage, SaveOnBrew says it's best to buy from reputable retailers (like those listed on SaveOnBrew) who understand that beer is a perishable product, despite most labels lacking specific dates. It's also best to store beer in a cool (45-55 degrees), dark place. Long-term use of refrigeration (beyond a few months) is not recommended. One should be sure to keep bottles upright during storage to prevent yeast rings from forming. Lastly, beer drinkers will want to consult http://www.SaveOnBrew.com – the world's only beer price search engine – to find the best sales and lowest advertised prices on beer in their towns.
About SaveOnBrew.Com: Founded in 2010 to help thirsty beer drinkers across the United States find the lowest advertised prices for one of the world's most popular beverages.