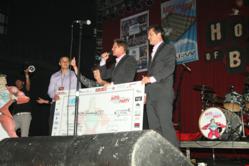 Anaheim, CA (PRWEB) August 07, 2012
Almost 1,400 guests packed into the House of Blues in Downtown Disney, Anaheim, California, for a night of fun and entertainment on July 25, 2012. It was another exciting night four years running for the Antis' Annual Community Manager Appreciation Party hosted by Antis Roofing and Waterproofing (ARW). The annual event is a show of thanks to all of those Southern California community managers and their company staff who have worked together with ARW. It is because of those business relationships that ARW has been able to donate the roofing installation for all the homes built by Habitat for Humanity Orange County over the last four years. Some of the guests had also personally volunteered their time to provide hands-on support in ARW's community outreach activities. If not for this partnership with the community managers, for which the party was organized, ARW may not have been able to participate with and/or support over 15 local charitable organizations.
"This was our way of thanking the community managers and their staff," says VP of Marketing Dean Morrison. "We wanted to give something back to them and we are happy that they all had a blast." Though every year the party has been a great event for all those invited, this year it broke all previous attendance records with people dancing and rocking the night away. By the time midnight arrived, people had experienced a night to remember and didn't want to leave. "It is an honor to be a part of something that means so much to our industry partners," declares ARW President Charles Antis. "We appreciate their hard work and dedication to our homeowner clients, and it is a pleasure for us and our sponsors to share such a fun event with them."
Though past entertainment for the first two years of the event included such greats as Sugar Ray and Gin Blossoms, the 80s cover band Flashback Heart Attack was booked for the party in 2011 and then called back for the 2012 show due to popular demand. Flashback recently rocked the Phoenix Open, the Pro golf tournament along with Will.I.Am and the Goo Goo Dolls. This year they offered a grand performance as they lit up the stage with such delights as Jesse's Girl, Tainted Love, and Whip It. .
This year's party was also a night of awards and recognition. First, Habitat for Humanity Orange County was presented a check from Antis and the event sponsors, based on $1 for every guest at the party, totaling $1,400. Erek Antis then presented Habitat Orange County Executive Director Sharon Ellis with a recognition plague from Habitat for Humanity Mongolia in appreciation for their help in the build in June 2012. ARW President Charles Antis had recently accompanied Sharon to Mongolia with his son Erek Antis and his daughter Ally Antis so they could volunteer their time and help out with that build.
This year also included an award presentation from MADD that was given to AWR VP Dean Morrison for the company's support in the Walk Like MADD program over the last two years. In addition, the community manager guests had provided over 350 books for the California Association of Community Managers (CACM) book drive to support their Early Literacy Program. Though the night was one of fun and thanks to so many wonderful community mangers and their staff, it was also an evening of support and charitable giving for worthy causes.
Another highlight of the evening was that all the cosponsors of this year's party got to snap photos with the band Flashback Heart Attack. The cosponsors this year included 24 Hour Restoration, Advent Companies, Andre Landscape Service, Artistic Maintenance, AV Builder, Brian Berg Insurance Services, CertaPro Painters, Collins Builders, Cresta Verde Landscape, DM Construction Services, DownStream Services, DryMaster, Elite Pest Management, Empire Community Painting and Construction, Harvest Landscape Enterprises, MCC Construction & Restoration Services, Michael Abdou Insurance Agency, Park West Landscape Management, Pilot Painting and Construction, Prendiville Insurance, Ranscapes, RGS Services, Roy Palacios Insurance Agency, Saddleback Fence and Vinyl Products, SCT Reserve Consultants, Securitas Security Services USA, Silldorf and Levine, LLP, Swedelson Gottlieb - Association Lien Services, The Perry Law Firm, Villa Park Landscape, and Vista Paint Corporation.
For more information:
http://www.facebook.com/antisroofing
About Antis Roofing & Waterproofing:
Antis Roofing and Waterproofing, Inc. is the leading roofing services contractor for Homeowners Associations within Orange, Los Angeles, and San Bernardino Counties in Southern California. The company is based in Irvine, California. President Charles Antis also serves as a member of the Orange County Habitat for Humanity Board of Directors.
Media Contact:
Aaron Antis
aaron(at)antisroofing(dot)com
949-461-9222
http://www.antisroofing.com