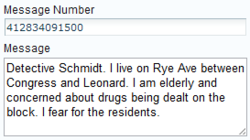 Go Silent! The Truth Will Set You Free...
Detroit, MI (PRWEB) August 07, 2012
SilentSender.com announced today a new upgrade of their wildly popular anonymous email service which provides users with the ability to send and receive anonymous messages and check the status of a pending message. Also, a new widget is available for free, that allows website or blog owners to receive anonymous tips, feedback, or comments via the SilentSender.com anonymity engine.
Utilizing a disinterested third-party to relay anonymous messages is appealing to internet users that don't trust a website's mail host and desire a higher level of privacy. Most users are savvy enough to understand their IP addresses (which can be traced back to their computer) are collected by the websites they comment and post on; SilentSender.com does not collect IP address, so communicating through their anonymous messaging service alleviates the fear of reprisal or embarrassment.
SilentSender.com is a website dedicated to freedom of speech and the right to communicate with other internet users without the users having to reveal their true identities. There are several obvious reasons why users would want to remain anonymous: reporting a crime tip, blowing the whistle on a public official, workplace theft, or corporate and union corruption. The site's use is not limited to just reporting abuse or criminal activity. Many subscribers use the site to communicate personal matters such as confirmation of infidelity and spousal or elder abuse.
A spokesperson for SilentSender.com said "We shouldn't have to live in a tattletale society where everyone is reporting on everyone else's indiscretions. But we should be responsible enough, as a community, to take appropriate action to expose crime and corruption wherever it may lurk."
The philosophy behind the creation of the website is to provide those who "know something" a way to have an instant and meaningful impact on their community without the fear of becoming the center of persecution. The site's founder believes that people inherently want to do the right thing but are held back because they simply don't want to get involved and fear backlash from those who may ultimately have to answer for their crimes or wrongdoing.
"With great power comes great responsibility and with that comes the potential for abuse of this powerful tool. The same right to speak our minds' can lead others to make threats and defame or bully others" said the spokesperson. "It's not right to suppress the voices of those who already feel repressed and have no one they can trust. That is why we built in a feature to protect recipients from abuse and harassment."
SilentSender.com receives traffic from around the world. It's growing community of world-wide users range from the larger industrialized nations of the U.S., U.K., India, and Canada to less stable regions such as Egypt, Libya, and the Middle East. The site is appealing to citizens of totalitarian regimes where users fear being jailed, or worse for speaking their minds. SilentSender.com remains a popular choice among websites that let users send anonymous email because it doesn't actually send the contents of the message in an email. Instead, the sender composes a message and provides an email address that is used to notify the recipient a message is waiting for them. The recipient comes back to SilentSender.com to retrieve their message with a special code, similar to pre-internet bulletin board systems. The recipient can then decide if they want to reply to the sender. Both parties always remain anonymous.
SilentSender.com is a Silent Holdings LLC company located in Detroit, MI. The company was started in December 2010 and has been providing anonymous email services since January 2011. SilentSender.com currently has no employees other than its founder, who wishes to remain anonymous.