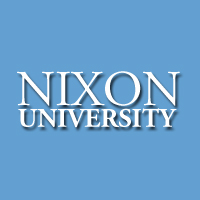 Corpus Christi, TX (PRWEB) August 08, 2012
Nixon University, being one of the top most online universities has been committed to the best practices and innovation for the betterment of online education delivery and systems. This idea of delivering excellence has made Nixon University announce the use of data mining and knowledge analytics to design intelligent curriculum for its students.
Nixon University has proclaimed the use of data analytics in a distinctive way where, data from the educational forums, social channels and class discussions will be gathered to analyze the pattern of each student's learning, their previous formally and informally gathered knowledge and it will be used in a transformational way to design the curriculum according to each individual's requirements. This curriculum will help to alter existing methods of passive learning and teaching, hence increasing interaction and involvement in online learning. This initiative would not only help in developing intelligent course content but also performance will be evaluated in real time as the learners demonstrate their learning.
"Students at Nixon University are taught the way they want to be taught, we believe in helping them pursue their interest, the initiative of data analytics will help our faculty to mine data related to student's previous knowledge and design the course solely for each individual to provide him with appropriate learning experience" said the Director, Academics at Nixon University. "Our students who are mostly working professionals should be exposed to the areas, where they are lacking, not to what they already know."
The real time availability of data will help the instructors develop a keen insight into the performance of the learners as well as where they are lacking and need assistance, this will enable efficient planning of teaching activities and resources. Student data related to their no. of times login, their knowledge and patterns of discussion will help the instructor filter out the content related to his needs only and evaluate his/her performance accordingly. This initiative from Nixon University is yet another step towards bringing excellence into its online educational processes, this will not only remove the fog of uncertainty around how to allocate resources among various students but also improve the quality and value of online learning experience.
About Nixon University:
Nixon University is an accredited online university that stands to make quality education accessible to each and every student of the world. Nixon University is completely accredited by a globally renowned accreditation body Q.O.E.C.B (Quality Online Education Certification Bureau), which is an independent and self governing accreditation body that provides the status of accreditation after evaluating the applicant on tough educational standards. Positive accreditation status from QOECB assures the students of Nixon University that they have made the right choice by choosing Nixon University as their degree awarding institution as degree acquired from an accredited university assures the authenticity of your degree and a high paying job. To know complete details about the program offerings and admission criteria at Nixon University, log on to http://www.Nixonuniversity.com.