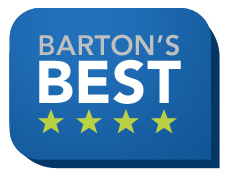 Boston, MA (PRWEB) August 07, 2012
Barton Associates, a leading national locum tenens agency, announces the latest installment of its Barton's Best award featuring the top medical mobile applications for smartphones and mobile devices.
Barton Associates is excited to publish the second installment of its Barton's Best award, which highlights the healthcare industry's best web and mobile content. This edition of Barton's Best features the top medical mobile applications available for smartphones, tablets, and other mobile devices.
As a leading locum tenens agency, Barton Associates is committed to placing talented physicians and nurse practitioners in great assignments across the country. In addition to offering locum tenens jobs across dozens of specialties, Barton Associates is also committed to providing resources (blog posts, articles, white papers, infographics, and more) that that matter to locum tenens professionals. The Barton's Best series highlights other individuals and companies that share Barton Associates' passion for providing rich and engaging content to healthcare professionals.
The medical mobile application market has exploded in the last few years. There are thousands of medical apps available for Apple (iPad, iPhone, iPod), Android, and other mobile platforms, and, Frost & Sullivan predicts mobile medical apps will generate $392 million in revenue in 2015.
The Barton Associates blog features the very best in mobile medical applications each week in the New Tech Friday series. Barton Associates believes that physicians and nurse practitioners can use mobile applications to enhance patient education, save time and money, and improve patient care.
Each of Barton's Best Medical Mobile Apps provides unique and useful features that many physicians and nurse practitioners can use in their everyday interactions with patients and colleagues. They include Epocrates Rx, Mobile MIM, AirStrip™ CARDIOLOGY, Human Anatomy Atlas, iTriage, MedCalc, Mayo Clinic Patient, MedCoach, and Kareo.
Those interested in learning more about each of Barton's Best Nurse Medical Mobile Apps can visit the Barton Associates Blog to read descriptions of each of the winners as well as comments from their founders and executives.
To learn more about Barton Associates locum tenens staffing solutions, please visit http://www.bartonassociates.com.
Barton Associates is a leading national locum tenens staffing company serving physicians, nurse practitioners, and hospitals, medical practices, and companies across the U.S. from national staffing offices in Massachusetts, Connecticut, and Florida.