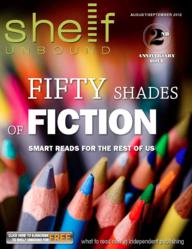 Dallas, TX (PRWEB) August 08, 2012
"Despite the grey tones dominating the New York Times bestseller list, there's a whole reading rainbow of fantastic fiction worthy of readers' attention," says Shelf Unbound publisher Margaret Brown of the digital magazine's second anniversary issue, released this week, which has a theme of Fifty Shades of Fiction: Smart Reads for the Rest of Us. The issue includes interviews with the authors of The Yellow Birds, Blueprints for Building Better Girls, and Hot Pink, as well as 47 other books with colors in the titles.
Shelf Unbound features the best of small press and independent books. "Shelf Unbound is a great example of the opportunity afforded by the digital revolution," says Brown, noting that the magazine reaches 125,000 readers in the U.S. and 42 other countries all over the world.
Subscriptions to Shelf Unbound are free at http://www.shelfmediagroup.com. The new anniversary issue can be accessed at this link: http://www.pagegangster.com/p/iSu62/.