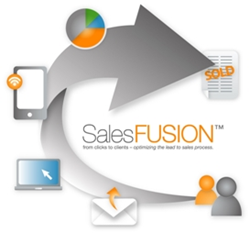 SalesFUSION is excited to showcase our new, 2.0 version of our fully embedded marketing automation solution for the Sage line of CRM solutions at Summit!; Said Kevin Miller, CMO SalesFUSION
Atlanta, GA (PRWEB) August 07, 2012
SalesFUSION announced today that it has released its new updated version of SalesFUSION 360 for Sage SalesLogix CRM and Sage CRM and will showcase the new releases at this year's Sage Summit exposition in Nashville, TN.
SalesFUSION is a leading marketing automation platform that is purpose-built to integrate marketing automation technology and processes with its clients' CRM systems. A Sage development partner since June, 2011, SalesFUSION provides a complete marketing automation package that is embedded inside of Sage SalesLogix and Sage CRM.
Kevin Miller, CMO at SalesFUSION, reported on the event stating, "We are very excited to have a larger presence and an 18 month work history with Sage prior to this year's Sage Summit. Since we began our integration with Sage in January, 2011, we have continually worked to improve and streamline the integration between SalesFUSION and the Sage CRM products, which include Sage CRM and Sage SalesLogix. We have also gained a tremendous amount of recognition in the Sage Channel this past year for providing a true, enterprise-class solution for Sage users. We are proud to say that we are the only marketing automation platform in existence today who has built a 100% out of the box connection to both Sage CRM and Sage SalesLogix".
SalesFUSION specializes in integrating its powerful yet easy to adopt marketing automation software to leading CRM systems. SalesFUSION began as a Silver Development partner with Sage in May, 2011, and after a solid year of acquiring new clients and partners, has made the move up to Gold Development partner status for Sage SalesLogix. Miller stated that, "We felt it was very important to build on our success in 2011 and move up to the next level with Sage from a partner standpoint. It is our goal to become a recommended solution for all Sage CRM products and be the marketing automation vendor of choice for Sage partners in North America and across the globe. We are well on our way to achieve those goals and our new integration, which we will debut at Summit, will certainly create some buzz".
SalesFUSION offers its complete marketing automation suite as a pre-integrated solution for Sage CRM products. Sold direct and through a network of leading Sage partners, the solution carries no cost for deployment and is a 100% in-house developed integration with no middleware tools in use. SalesFUSION integrates with S age SalesLogix from version 7.5.2 and up in both LAN and Web models. SalesFUSION also integrates with the LAN/Web versions of Sage CRM at the same level.
About SalesFUSION
SalesFUSION 360 provides software that accelerates revenue by connecting sales and marketing with prospects at the moment they are ready to buy. This is made possible through the SalesFusion 360™ suite, which complements Sales Force Automation applications by adding an on-demand enterprise lead management service. SalesFUSION 360 increases lead quantity, lead quality, and revenue conversion rates by integrating and automating the lead management process. SalesFUSION is an industry leader and innovator in integrating marketing automation into leading CRM Platforms. For more information, visit http://www.salesfusion.com.