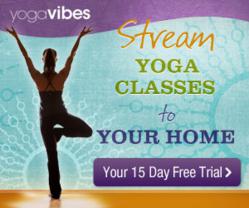 Yoga has been used to help kids develop better body awareness, self-control and coordination, not to mention enhanced focus and calm.
Charlotte, NC (PRWEB) August 15, 2012
It's August. That means the new school year is approaching fast. The kids are gearing up – getting new backpacks, school supplies, and trendy new back to school threads. Some kids are excited, maybe too excited. Some are overwhelmed, anxious even. Some are a little worried, uncertain of all the changes that the new school year will bring.
How can parents prepare their kids mentally and physically for transitioning back into school? How can parents ease their child's mind and facilitate calmness? YogaVibes' solution: Give kids the gift of yoga.
Yoga has been used to help kids develop better body awareness, self-control and coordination, not to mention enhanced focus and calm. Physically, yoga helps kids to acquire strength, increase flexibility, and burn off stored energy. Mentally, yoga helps kids to contend with their, oftentimes, stressful lives – homework, extra curricular activities, sports, full schedules, competition, school bullies, sibling arguments, learning differences, etc.
YogaVibes, a leading distributor of online yoga classes, has five online yoga classes available, specifically created for kids. These classes aren't just limited to kids, though. They are also great for parents and teachers to explore and practice with their kids and students.
Yoginos: Yoga for Youth®: Super Friends (47 minutes)
In this online yoga class, kids reflect on people and pets that are special. Kids learn about several heroes and their companions or vehicles (in Sanskrit, vahanas). Surrounded by original works of art, kids will learn about several heroes and heroines - Shiva, Parvati, Lakshmi, Vishnu and Ganesh - through sight, sound, breath, and yoga poses or asanas that reveal how friends and pets are special to us and how we are special to them. This online yoga class is designed for ages 4-6 and is adaptable for most ages.
Yoginos: Yoga for Youth®: The Courage in Me (35 minutes)
In this Yogiños: Yoga for Youth® online yoga class for ages 6 and up, learn one of the ancient stories of Garuda, half-man, half-eagle, and the heroic tasks he had to take on moments after his birth. Inspired by the works of art surrounding the galleries of the Crow Collection of Asian Art in Dallas, kids will use breathing, asana (yoga poses), and partner work to look inside their own hearts to find the courage needed to face difficult situations.
Yoginos: Yoga for Youth®: Lakshmi: The Heroine of Generosity (48 minutes)
Join kids and families of all ages on an adventure exploring the greatest form of wealth: The Art of Generosity. In this online yoga class for kids and families, learn mudras, breathing exercises, poses and cultural narratives inspired by an original work of art of Lakshmi – a hero known for bestowing wealth and prosperity, and an abundance of knowledge, kindness, and generosity. This online yoga class is designed for families with yogis of all ages.
STRIPES Yoga for Kids (72 minutes)
In this STRIPES online yoga class, instructor Alice Redding teaches children to become calm, enhance focus, and get ready for school. The STRIPES (Systematic Training in Relaxation: Inner Peace for Every Student) method helps children cope with everyday stress, ADHD, anxiety and learning differences. Appropriate for children of all ages.
Also, enjoy Alice's free online yoga videos that are awesome for teaching children (especially with ADHD and/or anxiety issues) how to self-regulate and calm themselves before school or before an anxiety-provoking school event.
mini yogis yoga for kids (50 minutes)
Shana Meyerson introduces children to yoga poses through a reinterpretation of the card game, "War." In her version, "Peace," children learn 14 poses, one for each type of card. This online yoga class also includes meditation, a warm-up and cool down, and final relaxation sequences. Suitable for ages four and up.
Also, enjoy these free online yoga videos demonstrating each of the 14 poses explored in the game.
There's no better time to get the kids on the mat. Get them to burn off some of that nervous energy, learn new stories, explore new movement, and feel good about getting back into the school year swing of things.
About YogaVibes
Looking for the best online yoga classes? Look no further! YogaVibes.com is an online realm for high-quality, authentic yoga classes and instructional videos captured in a real studio with real students. YogaVibes offers a diverse selection of classes from the best yoga teachers in the world, making learning and living yoga easy in everyday life. YogaVibes' mission: To create a supportive, challenging, and welcoming online community of passionate and inspiring yogis.