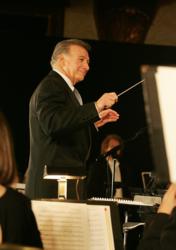 "This year's summer concerts have been a tremendous success and we are proud to bring such a great variety of music to so many people."
East Meadow, NY (PRWEB) August 07, 2012
David Lerner Associates, a financial investment company headquartered in Syosset, NY, has announced they will be sponsoring a free summer concert by the famous Long Island Philharmonic Orchestra at Eisenhower Park in East Meadow. The Philharmonic will perform in the Harry Chapin Lakeside Theatre on Friday, August 10 at 7:30 p.m. David Stewart Wiley, musical director and conductor, will lead the Orchestra as they treat the audience to a beautiful performance in a relaxed setting.
"This concert will be a great opportunity for fans of classical music and their families to enjoy a lovely performance by one of the nation's most celebrated orchestras in a unique atmosphere," said David Lerner, founder and CEO of David Lerner Associates. "This year's summer concerts have been a tremendous success and we are proud to bring such a great variety of music to so many people."
Over the past two weeks, David Lerner Associates and the Town of Oyster Bay have captivated audiences of thousands with three "Music Under the Stars' concerts featuring live music spanning several decades. On Friday, July 27, former Styx front man Dennis DeYoung delivered an electrifying performance at John Burns Park. On Wednesday, August 1, The Time Machine performed a mix of Motown, rock, pop and disco at Syosset-Woodbury Park. On Friday, August 3, spectators at the famous Theodore Roosevelt Park were treated to 'An Evening of Doo Wop' featuring The Blue Notes and The Duprees.
The mission of the Long Island Philharmonic is to provide the highest quality of music programming that entertains, excites and inspires the Long Island community. The concert will give parents the opportunity to introduce their children to classical music in a comfortable and casual atmosphere. David Lerner Associates has been sponsoring free concerts from the Long Island Philharmonic Orchestra since 2005.
About:
Founded in 1976, David Lerner Associates (DLA) is a privately-held investment company. DLA's headquarters are in Syosset, New York and has branch offices in Westport, CT; Boca Raton, FL; Teaneck, NJ; White Plains, NY; and Princeton, NJ.