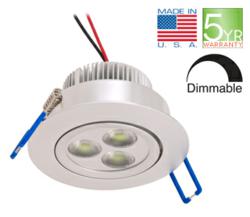 Cree's XT-E makes the Midtown 2.0 LED Recessed Light both cost efficient and energy efficient.
Brooklyn, NY (PRWEB) August 07, 2012
LED Waves has updated its popular LED recessed light made in the USA with the addition of the brand new XT-E LED chip. The Midtown 2.0 boasts the same efficiency, light output and custom options as its predecessor, but now features the low cost of $37.95 per unit. Since it comes complete with fixture housing, lamp and line voltage driver, the Midtown 2.0 LED recessed light is now competitive with halogen down lighting technology in terms of up-front investment.
This unprecedented low price comes from LED Waves' partnership with Cree, the global leader in solid state lighting research. The company has developed a new line of chips, branded SC³ technology for its use of silicon carbide-based substrates. This high performance material is more widely available than sapphire, which is traditionally used in LED manufacturing. With more affordable chips, the company hopes to foster widespread adoption of LED lighting.
The XT-E is the newest development in this line of chips from Cree utilizing SC³ technology. Specified by LED Waves' in-house engineers as the best solution for down lighting applications, the XT-E makes the Midtown 2.0 LED Recessed Light both cost efficient and energy efficient.
The Midtown 2.0 is a 9 Watt LED replacement for a typical 50 Watt halogen downlight. It is available now in a 3000 Kelvin Warm White color temperature, ideal for ambient lighting in the home. 4000K Neutral and 5000K Cold White versions will be available soon. Beam angles range from 15 degrees (tight spot, for high ceilings) to 45 degrees (wide spread, for low ceilings). The Midtown 2.0 may even be dimmed with a Buck Puck and a Dimmable LED Power Supply, further positioning halogen down lights to be replaced by LED technology.
About LED Waves
LED Waves is a Service Disabled Veteran Owned Business operating out of Brooklyn, New York. A supplier and manufacturer of LED lights for over a decade, LED Waves is committed to making high quality, energy-saving lights affordable for businesses and residences alike. To that end, the company is offering free shipping on select items made in the USA during the month of August 2012. Visit LEDWaves.com for coupon code, exclusions and details about this promotion.