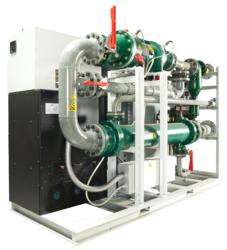 The unit will capture heat ranging from 180 to 220 Fahrenheit and will essentially open up a whole new market in which it is economically feasible to generate electricity from low grade heat sources.
Cerritos, CA (PRWEB) August 08, 2012
Access Energy was selected by the University of North Dakota (UND) to provide two Thermapower™ ORC (Organic Rankine Cycle) Modules for demonstrating the technologic and economic feasibility of generating electricity from low-temperature geothermal water co-produced with oil and gas. Testing for the UND project, which is being sponsored by the U.S. Department of Energy (DOE), will take place at an oil and gas field in western North Dakota.
A team of university and industry engineers and scientists evaluated the power capacity, efficiency and economics of six commercially available ORC systems in collaboration with the equipment manufacturers and determined that Access Energy's Thermapower™ system would yield the best economic results.
"Based on the success of our medium-temperature Thermapower™ Module, we are in the final stages of development on a low-temperature ORC module for this project," said Access Energy Vice President Herman Artinian. "The unit will capture heat ranging from 180 to 220 Fahrenheit and will essentially open up a whole new market in which it is economically feasible to generate electricity from low grade heat sources."
The ORC units will be operated and monitored for two years under the supervision of UND Professors William Gosnold, Ph.D., Michael Mann, Ph.D. and Hossein Salehfar, Ph.D. to develop engineering and economic models for ORC Energy production from co-produced geothermal resources. The data and knowledge acquired during the operation and maintenance phase will be used to facilitate the installation of similar geothermal ORC systems in other oil and gas settings.
"We are very happy to be working with UND's engineers and scientists to help facilitate the development of small-scale geothermal power," said Artinian. "North Dakota provides an ideal test environment for geothermal ORC technology, given its abundance of low-temperature underground fluids and its widely varying continental climate."
Access Energy's Thermapower™ heat recovery system employs a Carefree™ Integrated Power Module (IPM), engineered and produced by Access Energy's parent company Calnetix Technologies. The Carefree™ IPM consists of a high-speed turbo expander and generator in a single, hermetically sealed unit with only one moving part, to produce up to 125 kWeg of utility grade power from a medium or low temperature heat source.
In addition to the Carefree™ IPM, the ORC module includes Calnetix's proprietary power electronics unit and magnetic bearing controller, a variable speed controlled pump and associate piping, and an organic working fluid. In operation, the heat source transfers energy into the ORC system, which evaporates and pressurizes an organic working fluid. The pressurized fluid enters the Carefree™ IPM, where expansion of the fluid drives a turbine to generate electrical power. Following expansion, the working fluid is condensed and fed to the pump to repeat the cycle. View video to see how it works.
Access Energy is offering its Thermapower™ product for sale to experienced end users in incineration, compression, coproduction, amine treatment, marine, geothermal and solar thermal applications, and other unique heat sources or to equipment OEMs (original equipment manufacturers) for integration into end products for these applications.
The core technologies comprising the Thermapower™ ORC Module have been used for heat recovery in various applications in the United States, Canada, Europe, the Middle East and Asia since 2009 under Calnetix and its distributors and licensees. Over 100 units have been shipped and are accruing thousands of hours of operation.
About Access Energy
Based in Cerritos, California, Access Energy develops, manufactures, sells and services heat recovery and pressure recovery systems from small-scale commercial and industrial applications. These systems are specifically designed to convert heat or pressure into electric power without interrupting production or processing activities. Access Energy is a wholly owned subsidiary of Calnetix Technologies. For more information, please visit http://www.access-energy.com.
About Calnetix Technologies
Calnetix Technologies, LLC ("Calnetix"), headquartered in Cerritos, California, is focused on Innovation That Drives Industries. The company specializes in high-performance, high-speed motor generators and best-in-class control systems and advanced magnetic bearings. Calnetix's patented, underlying technologies, which have been in use since the company's inception in 1998, have made Calnetix a world leader in the design and production of high-speed machines. The company's overall technology portfolio and system integration capabilities have led to development and production contracts with industry leaders and the start of many successful subsidiaries that focus on unique niche markets. For more information, please visit http://www.calnetix.com.