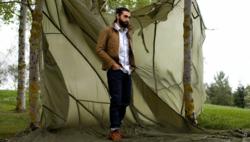 Seattle, Washington (PRWEB) August 08, 2012
GNRL.QTRS, from Seattle, has released their fourth collection for 2013, "Drop Zone." The collection will be launched at Workroom-Project Tradeshow in Las Vegas, Nevada from August 20-22, 2012.
Building on the foundation of their three previous collections, GNRL.QTRS continues the fourth collection with continued focus on quality, consistency, and an emphasis on texture. Modifications in fabrics and treatments were made to carryover silhouettes from previous seasons, with the addition of several new designs in three categories; outerwear, knits, and wovens. The color palette remains within the utilitarian staple of black, grays, and naturals; with pops of color that keeps the line fresh. The asymmetrical features and attention to details GNRL.QTRS is known for are apparent across the offering and continues to make the line tight and cohesive.
The highlight and the focal point of the fourth collection is their deep outerwear category. The original Operations jacket continues to be the core silhouette for the grouping. It features an oversized front zipper, storm flap at the neck, artillery flap, welted pockets, and action back. The rest of the outerwear grouping consists of the Mission jacket, Infantry peacoat, Bombardier worker jacket, and Zip Line hoody, Urban parka, and Trench jacket; all with comparable treatments. Each in its own right has unique details but still have the GNRL.QTRS distinctive look and characteristics. This collection's outerwear is offered in Japanese twills, waxed canvas, lightweight herringbone wool, and Pendleton wool.
The knit grouping continues to be strong and designed as light outerwear or as layering pieces. Traditional silhouettes are interpreted into modern classics with utilitarian elements. The highlight of the knit group is the Jungle Mock jacket that features double front pockets, artillery shoulder piecing, and leather buttons. The Desert knit is a half placket mock with a kangaroo pocket that is highlighted by a terry loop textured fabric. Several silhouettes are carried over from previous seasons and have been reinterpreted in new fabrics.
Wovens and graphic tees complement and round out the rest of the collection. The Unit, Utility, and Cadet tops are available in various Egyptian cottons, woven in Japan, in solids, stripes, and check patterns. The military inspired graphic tees are American made 100% cotton.
GNRL.QTRS's "Drop Zone" collection will be available at select retailers including Ian, Asher Goods, Atrium, Vividbraille, and online.
About GNRL.QTRS
GNRL.QTRS is a uniform that takes American classics and incorporates a utilitarian twist. GNRL.QTRS represents a new generation of American aesthetics that builds upon traditional values of excellence and quality. With clean styling, modern lines and attention to details, it's self-defined by the person who wears it.
Designed and made in the USA.
Contact
Jovi Legaspi
Phone: 425-802-3241
Email: jovi(at)gnrlqtrs(dot)com
Web: http://www.gnrlqtrs.com
# # #