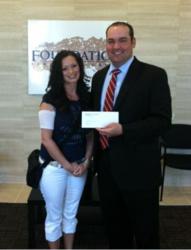 Through our philanthropic services, Foundation Financial strives to provide opportunities that improve the lives of individuals in our communities
Kansas City, Missouri (PRWEB) August 07, 2012
Foundation Financial Group employees in its Kansas City network branch office, located at 7607 NW Roanridge Road, presented a check of employee donated and corporate matched funds to the 'A Heart for Andrea' cause.
"Foundation Financial Group is extremely proud to support the Heart for Andrea cause," said SVP of Branch Network Operations, Marc Chillion. "Through our philanthropic services, Foundation Financial strives to provide opportunities that improve the lives of individuals in our communities."
Since 2010, Foundation Financial Group's social investment is over $969,000 in support of its philanthropic initiatives. Foundation Financial projects that it will surpass the one million dollar mark before the year is out. FFG partners with hundreds of non-profit organizations and quarterly, each office sponsors a philanthropic event of its choice. The events are planned and carried out by committees of employees. In addition to 'A Heart for Andrea', the Kansas City branch office has already sponsored two philanthropic events this year and is currently planning their third.
"When a local employee approached us with the 'A Heart for Andrea' cause, we were touched and motivated to assist in any way we could," said Chillion. "Through internal communication with employees across the nation, not just locally here in Kansas City, we were able to raise thousands of dollars to help Andrea in her fight. We are hoping that our efforts are the spark that gets Andrea's story out there so that viewers both locally and nationally will feel moved to donate to this great cause, just like we were."
Andrea, a Kansas City, MO native and a single mother of two, was born with a congenital heart defect known as Corrected Transposition of the Great Vessels along with Pulmonary Stenosis. When she was 2 years old, she had open heart surgery in an effort to correct the problem. However, the surgery was unsuccessful and ended with the need of an artificial pacemaker to be inserted. The doctors explained to Andrea that someday her heart would give out and she would need a transplant. Unfortunately that day arrived on November 23, 2011 when she suffered a heart attack at the young age of 35 years old, and was diagnosed with Congestive Heart Failure.
The doctors have tried to get her condition under control, but Andrea's heart has only shown signs of weakening, which have led to her being placed on the heart transplant list at St. Luke's Mid America Heart Institute in Kansas City, MO. The wait on this list is usually at least one year, due to her specific blood type, but an exact timeframe of eligible for surgery is unknown.
The disease has created a significant health issue, and Andrea is unable to return to work as a Sheriff's Deputy, leaving her no source of income. The loss of income coupled with the fact that this type of surgery is very expensive, has created a large financial void for Andrea that she desperately needs assistance with.
Foundation Financial Group's donation will help cover living expenses while Andrea is waiting for the heart transplant surgery; providing food and shelter for her children during this challenging situation.
For more information on how you can help this great cause, please visit http://www.heartforandrea.webs.com.
About Foundation Financial Group
Foundation Financial Group is a multibillion dollar financial services corporation. FFG offers its customers Best in Class service through its Insurance, Retirement, Mortgage, and Tax Services. Named one of the fastest growing financial companies in the country by INC magazine, FFG has continued to grow its nationwide presence with over 100,000 new customers per year in 38 states. In addition to the value that Foundation Financial provides every customer, it is also dedicated to its communities and the people who live in them. Through a vast array of philanthropic endeavors the company not only provides significant monetary donations but also fosters a workforce environment that encourages all team members to personally make a difference. Foundation Financial is committed to its strong focus on customer service and community investment as it continues to grow and compete with the largest financial institutions in the world.
For additional information, interview and image requests, contact the Foundation Financial Group Public Relations team at 866-659-3200.