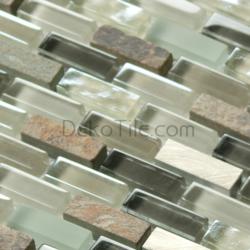 Los Angeles, CA (PRWEB) August 08, 2012
For centuries, artisans have been creating intricate mosaic patterns to adorn floors in all types of buildings. Today, homeowners can bring that same touch of class into their own living space with the mosaic tiles offered by Deko Tile. As part of their commitment to offer the widest selection of field online. Deko Tile has added the Pose Collection to their already impressive catalogue. With the Pose Collection, homeowners will be able to pick from 6 dazzling mosaic that incorporate slate, glass and aluminum into intricate patterns. The result is nothing less than stunning.
The most popular of the six tiles Pose Collection is the 1x1 Mix Mosaic Fawn Blend. This is a simple, yet elegant, 1 inch by 1 inch chip pattern incorporating glass, aluminum and quartzite in an eye-catching pattern. The range of colors includes brown, grey, beige and aluminum. It's perfect for backsplashes or as a border accent to bring a bit of sparkle into a room.
For a more distinctive design, Deko Tile offers the 3/8 x Multiple Length Mosaic. Once again, glass, quartzite and aluminum are used as the primary components for the chips but this time those chips are presented in thin multiple lengths. The result is nothing less than spectacular. As with most of the other selections, this mosaic pattern is offered in 12 x 12 sheets which are easy to cut to fit and install. This pattern is also available as a Verbena Blend which utilizes serene green shades of glass and slate patterned with brushed silver aluminum.
Deko Tile can ship orders anywhere in the U.S. via UPS Ground or Motor Freight. The maximum delivery time is six days with many orders being shipped and delivered in half that time.
About DEKO TILE: DEKO Tile is one of the largest direct importers of flooring and wall tiles. DEKO Tile was founded in 2001, with a focus on natural stone products. Over time, we expanded our product portfolio to include glass, metal and other materials. Our mission has been to provide the trade professionals and do-it-yourselfers with high-quality flooring and wall covering products at affordable prices. We strive to achieve this mission by cutting the middleman and supply these products directly to the end users.
For more information contact DEKO Tile @ 310-669-8880 / http://www.dekotile.com