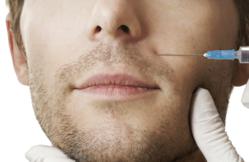 The number one concern I hear from men is, 'I don't feel the way I look'. They work out, take good care of their eating habits, but just don't look the part. So within a few days of seeing me, they look refreshed, revived and less tired. -Dr. Rueckl
Las Vegas, Nevada (PRWEB) August 09, 2012
According to the Wall Street Journal, April 26, 2012, "Dude, Pass the Exfoliator" article by Elizabeth Holmes, "Men's grooming has gone mainstream. Male skin care is one of the beauty industry's fastest growing sectors, with more men adopting a gooming regimen, alongside exercise and eating right, as a component of healthy living." And in a recent article in the Sun Sentinel, June 1, 2012, By Nicole Brochu, speaking of men and their newly adopted care, "They Botox and moisturize, dab their eyes with wrinkle cream and spend lunch hours on manicures and pedicures.Today's men are getting a makeover, prettifying themselves with such gusto that they're driving big increases in national skin-care sales and flooding dermatologists' offices with record-high requests for wrinkle smoothers, laser treatments and derma fillers."
"And why not?" says Katie Rueckl of Lakes Dermatology, Las Vegas, Nevada. "Men have been visiting our practice for years. We just don't publicize the fact. But our volume has greatly increased, dramatically. The men that come to our practice are just as concerned about their looks as women."
There's good reason. With the competitive job market and more and more young people seeking jobs that have always been the territory of 50 somethings, they need to look good and has never been more prevalent. According to CBS/DFW, "Dallas businessman Don Pelham falls into this group. He says looking good is part of what keeps business booming.
"I usually get guessed for much younger than my age," he said.
But, at 47-years old, Pelham says it's become harder to stay fresh in his highly competitive field.
"It was like I was 26 one day, and then I woke up and I was in my 40s," Pelham said. "Some of the things weren't looking the same way they used to."
To give himself a boost in the job market, Pelham turned to Dr. Jeffrey Adelglass at Skintastic, and a popular treatment usually given to women. "Brotox, if you will, is probably where mani/pedis were 10 years ago," Pelham said.
He had several treatments of botox and fillers around his face to help revitalize his look. And, he's not alone. Dr. Adelglass says "brotox" business is exploding as older men turn to cosmetic procedures to help them face-off with younger competitors –– especially when hunting for new jobs.
"They look older, they look tired," Dr. Adelglass said. "They don't have that vitalized look. They come in and get a vitalized look, and bam they get a job."
"The number one concern I hear from men is, 'I don't feel the way I look'. They work out, take good care of their eating habits, but just don't look the part. So within a few days of seeing me, they look refreshed, revived and less tired. I encourage most guys to visit our Spa for maintenance packages so they can keep up their refreshed looks with a new piece of equipment called Venus Freeze. I have them sign up for a package and because the treatment actually feels good, and really tightens their facial skin, it's easy for guys to swallow," says Dr. Rueckl of The Spa at Lakes Dermatology and Lakes Dermatology.
So the word is out men. It's okay to do what the women have known for years.