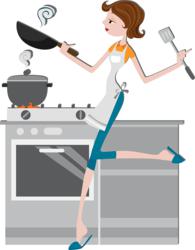 "Static websites are going to be ignored. The home cook is paying attention to websites with great images and helpful, relevant, updated content."
Sacramento, CA (PRWEB) August 08, 2012
Web writer Melissa AuClair is changing focus to help companies in the food industry develop their online presence with personable and relevant e-newsletters, emails and additional online content.
"I've redone my website and all online content to focus on helping the companies who are marketing their products and services to the home chef. I've also added a weekly newsletter, The Kitchen Connection that features a weekly idea on how to connect with customers online."
As a content developer, AuClair states she sees a lot of missed opportunity for companies to connect with the home chef. "A lot of good companies aren't creating the online experience their customers want. The websites are dull. There is little or no social media interaction. Navigating around the site is difficult. Many websites have old content or are irrelevant to the current times. It leaves a poor impression of the company."
Home cooks are looking for the personal connection. They are looking for companies in the food industry they trust and rely on.
"People go to the internet for information, for recipes, to look at what other people are doing in the kitchen and more efficient ways to cook from home. It's about creating an active forum online that enhances the home cook's ability to create better food and relationships.
"Static websites are going to be ignored. The online cook wants more than reformatted recipes and bland information" says AuClair. "And home cooks are giving preference to companies by paying attention to websites containing great images and helpful, relevant, updated content."
"I'm excited to work with companies and help them build relationships with their customers. There are companies with incredible products and services. But they can't gain traction online because their web presence is underdeveloped. In today's marketplace, we have
How can companies start having more influence online?

Make sure the company has an opt-in on their website for an e-newsletter.
Take advantage of the email list to add value to customers by teaching them something they want to know. Give them something of value.
Feature customers as guests on blog posts. This creates excitement in the local community. Additionally, guest bloggers and interviewers are more likely to spread the word about the business and website.
It's is imperative to stay connected with customers not by selling to them but by helping them. E-newsletters, blogs and email have shown to be effective and cost efficient ways to stay connected with the home cook.
Melissa AuClair has worked with multiple small businesses in the past writing e-books, newsletters, online content, audio content, feature articles and online sales letters for the finance, health and fashion world. Now she shifts her focus to writing personable e-newsletters and emails for companies serving the home cook.
For additional news on the subject of this release contact Melissa AuClair at http//http://www.melissaauclair.com