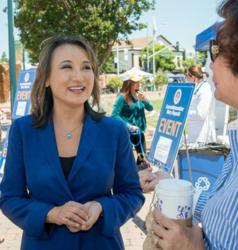 Mary represents the best of education - she is a passionate, enthusiastic and open-hearted educator
Sacramento, CA (PRWEB) August 06, 2012
Assemblymember Mary Hayashi (D-Hayward) honored long-time Castro Valley educator Mary Bird today at the California State Capitol. Ms. Bird has been a teacher for 31 years, and was named Region 4 Educator of the Year in 2010 by the California League of Middle Schools.
"Mary represents the best of education: she is a passionate, enthusiastic and open-hearted educator who is sought out by students and teachers alike for her guidance and leadership," stated Assemblymember Mary Hayashi. "It's an honor to have one of California's best teachers here today."
Mary Bird has been a teacher for 31 years. She currently teaches math at Creekside Middle School in the Castro Valley Unified School District. Her innovative teaching methods and curriculum have resulted in improved testing scores and more students taking higher level courses.
Ms. Bird's dedication to teaching extends beyond students, as she serves as a mentor to other teachers and has chaired the math and science departments.
In 2010, she was selected as the Region 4 Educator of the Year by the California League of Middle Schools. The award is given annually to 11 educators, representing regions throughout California, who are leaders of educational reform in the middle school.
In nominating Ms. Bird for this award, Creekside's principal, MaryAnn DeGrazia, described her as a "remarkable educator who teaches with her heart and soul, is admired by students and is deeply respected by colleagues."
Assemblymember Mary Hayashi is the Chair of the Business, Professions, and Consumer Protection Committee and serves the 18th Assembly District, which includes San Leandro, Hayward, Dublin, most of Castro Valley and Pleasanton, and a portion of Oakland, as well as the unincorporated areas of Ashland, Cherryland, San Lorenzo and Sunol.
# # #