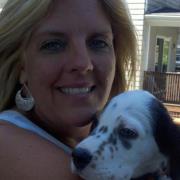 A New Outlook on Life, One Wag at a Time!
Beverly, MA (PRWEB) August 24, 2012
Wednesday August 1st 2012, was the opening day for Tracey Geary's new business, Blue Chip Pet Care. Tracey Geary is from the town Beverly MA just outside of Boston. After spending much of her life in Beverly she decided to pursue opening a dream of owning a business. Tracey Geary has a law degree and has a wealth of experience in the non-profit sector leading fundraisers. She has always had a love for animals and for helping others. Tracey is a mother of three beautfful children as well as a mother to her three beloved dogs. A driving reason behind a career change was a goal to spend more time with her family. She now finds that working for herself is not only a fun, but a good investment. She is working with animals through an array of pet sitting services that are extremely useful, convenient and reasonably priced to pet owners was a great opportunity.
After making the decision to Franchise with Blue Chip Pet Care Tracey flew to Nashville, TN where she took part in the franchise ownership training program. Today Tracey has scheduled clients, participated in community pet fundraisers, spoke about the benefits and created a strong buzz in the community. Tracey even had interest from a potential buyer in the northeast corner of her territory. She wanted to focus south of her market and has already expanded her market from Beverly MA to Stoneham MA. Friend and Area Developer for Blue Chip Pet Care Alan George came into the picture as working in the franchise industry most of his career with a and a resident on Stoneham. Alan has a great understanding the business model and has teamed up with Tracey by expanding the brand.
Blue Chip Pet Care provides In Home Pet Care Services straight to the customer's home. Such as Pet Sitting, Dog Walking and much more. In-Home Pet Care reduces pet anxiety, keeps the pet and the pet owner on their routine schedules and the service is extremely convenient. It also adds other elements of home needs that clients experience such as, mail pick up, plant watering, house sitting, trash take out and more. It's a nice touch to get home from work, reading my performance report from Blue Chip knowing what my dog did today while I was away, (need client insert )
The pet industry has been rapidly growing and continues to increase in size. Their is a movement towards the humanization of pets as pets are seen as members of the family. Whether seen on the bookshelf at Barnes & Nobles or on CBS's 'Dog's in the City' the pet industry has proven itself as one of the most lucrative and successful in the marketplace. Tracey Geary of Beverly MA, is happliy working doing what she loves through owning, managing and servicing pet sitting, dog walking and more. She is greatly looking forward to growing and expanding her new business!