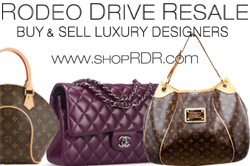 It's been exciting for me to see my ideas come to life, from type colors to photo selection to casting.
Houston, TX (PRWEB) August 08, 2012
To help luxury lovers stay informed on the latest in upscale style and Hollywood happenings, Rodeo Drive Resale, premier retailer Louis Vuitton bags, St. John Knits and other high-end favorites, highlights the latest in celebrity and designer fashion news.
Victoria Beckham Gets Glamourous: Victoria Beckham, whose fashion credentials include time served as the face of Marc Jacobs' spring 2008 collection and British ambassador for Dolce and Gabbana, knows a thing or two about luxury style. Now she has a new item to include on an already impressive resume: Guest Editor for Glamour magazine. "It's been exciting for me to see my ideas come to life, from type colors to photo selection to casting," she wrote in the September issue. "My hope is that this issue inspires you, takes you places you haven't been before (the Chanel story is a journey in itself), and makes you feel good." In addition to her role as editor, the issue features a cover story on the former Spice Girl, as she discusses juggling fame, family, and career. Ever the fashion forward mother and wife, Beckham has become a symbol of style, and in a past interview, discussed an affinity toward designer shoes: "I've got some fabulous Balenciaga shoes that are quite fetishy-looking: Major pointy toes and a huge spiky heel," she told InStyle.com in 2007, going on to reveal her secret to achieving instant swagger. "I'm quite obsessed with sunglasses. I collect vintage Gucci's and Carreras — they can make virtually any outfit look cool."
Say Yes To The Chess: Prada handbags and sleek trouser suits may not come to mind when one envisions a rousing game of chess, but that may soon change once luxury lovers see the Prada Fall/Winter 2012 video campaign. In the clip, supermodels Magdalena Frackowiak and Anne Vyalitsyna square off at the chessboard, immersed in an abstract world filled with Prada clothing models striking equally abstract poses. The Italian Fashion house, founded in 1913 by Mario Prada, has had previous success with their artsy ads: Earlier this year, Prada won "Best Online Video" at the Fashion 2.0 Awards for its vibrant spring 2011 campaign.
Fab and Famous: Each year, Vanity Fair releases its list of the world's best-dressed celebrities. Leading the style hierarchy this time around are British royals Kate Middleton and brother-in-law Prince Harry, both of whom have made appearances at the 2012 Summer Games draped in designer duds. While Prince William failed to make the top ten, his brother and wife were joined by royalty of the music variety as recording artist and music mogul Jay-Z crept into list alongside his "Empire State of Mind" collaborator Alicia Keys. Other fashion winners include New England Patriots star Tom Brady, actress Jessica Chastain and President Barack Obama and First Lady Michelle Obama, who make an appearance together on the list of the Best-Dressed Couples.
A Winning Wardrobe: The crackdown on counterfeit goods is a global effort that holds no bias toward status, a lesson Egyptian Olympic Committee [EOC] recently learned after coming under fire for issuing phony bags and uniforms to the country's 2012 Olympic team. "The bags for example have [a] Nike logo in the front and the zippers are Adidas," Egyptian swimmer Yomna Khallaf tweeted on July 23, after alleging she and her teammates had been given counterfeit apparel. The EOC would eventually acknowledge the items as fakes, and said they would work to supply their athletes with authentic gear. Although the incident proved to be a major embarrassment for the EOC, its athletes were able to secure a bit of Olympic glory, as Egypt's Alaaeldin Abouelkassem took home the silver medal in fencing late last month.
Rodeo Drive Resale (shopRDR.com) has built a reputation of providing amazing deals on handbags, clothing and accessories from the top designers of upscale fashion. The company offers a 100% guarantee of authenticity on each item sold, and works daily with a network of clients looking to buy, sell, or for consignment of their luxury goods. ShopRDR.com loves high-end fashion, and believes finding a high quality, classic piece should be an easy, enjoyable -- and most importantly -- hassle-free shopping experience. For the finest in Louis Vuitton, Chanel, Prada, Gucci, St. John Knits, Christian Louboutin, Tiffany & Co. and more, visit RDR online at http://www.shopRDR.com or call 1-888-697-3725.
Also find shopRDR at:
Facebook: facebook.com/shopRDR
Twitter: twitter.com/shopRDR
YouTube: youtube.com/ shopRDR
Pinterest: pinterest.com/shopRDR
Rodeo Drive Resale (shopRDR.com)
1-888-697-3725
service(at)shopRDR(dot)com