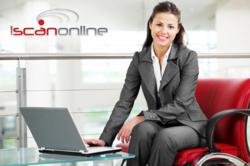 Dallas, TX (PRWEB) August 07, 2012
iScan Online, Inc. a provider of online vulnerability scanning solutions, announces the immediate availability of its online security scanning service. iScan Online is designed to help SMB (small to medium businesses) and organizations of all sizes assess the security of their remote workforce, users with BYOD (bring your own device) and perform internal vulnerability assessments of all Mac and PC's accessing the organization's network. This revolutionary new scanning service requires only a web browser and includes a PCI scan policy to meet PCI DSS internal scanning requirements.
iScan Online simplifies internal security assessments and reporting for all organizations. As a cloud service, iScan Online, is designed from the ground up to fulfill the needs of all sizes of organizations including managed service providers. Through iScan's highly scalable Cloud Console, administrators can easily manage large numbers of devices across multiple customers. iScan Online and the iScan Cloud Console can report the security and compliance status of all devices including those which rarely connect to the corporate network.
The new service from iScan Online allows customers to scan for vulnerabilities on PC's, Macs and soon many popular mobile devices. It provides the following capabilities to customers:

Perform internal PCI security scans with no software download
Identify the security and compliance status of any remote worker or branch office
Measure PCI compliance status for all customers, employees and partners with the iScan Cloud Console
Trigger scans via email, calendaring or web applications via the iScan Online REST API Integration Kit
"Internal security assessments are more prevalent today as the daunting number of attacks tend to focus on hacking the employee's desktop and mobile device," said Billy Austin, President and Co-Founder of iScan Online. "With this new service, we provide customers the ability to scan thousands of remote systems and devices within 60 seconds regardless of where the device or system is located."
iScan Online will debut its technology at the Interface Technology Event in Phoenix, Arizona on August 9th at the Sheraton Phoenix Downtown Hotel at 9 a.m. PST. President and Co-Founder – Billy Austin will deliver the keynote presentation "Assessing Mobile Workers & Devices" to 300+ technology, security and compliance professionals.
About iScan Online, Inc.
iScan Online, Inc. is a provider of online vulnerability scanning solutions for addressing the security assessment of mobile devices and remote workers. iScan Online offers customers the ability to scan anytime or anywhere with an Internet connection and a browser.
Changing the paradigm of vulnerability assessment to mimic the social aspect of today's workforce, iScan Online delivers its scanning services through a series of browser based technologies and cloud solutions.
To date, iScan Online is the first and only vendor to perform security assessments on the internal network without installing software or hardware. iScan Online supports Microsoft Windows and Apple OSX environments and is currently working to deliver solutions for the most popular mobile and tablet devices.
Billy Austin, austin(at)iscanonline(dot)com
214-444-9188