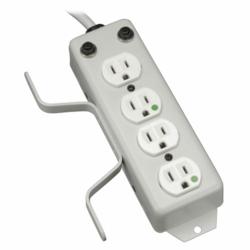 We're always looking for ways to improve our solutions and address real problems in healthcare applications
Chicago, IL (PRWEB) August 06, 2012
Tripp Lite, a world-leading manufacturer of power protection and connectivity solutions, has expanded its line of healthcare solutions to include the PSCLAMP mounting clamp and PS410HGOEMX medical power strip. The new mounting clamp and medical-grade power strip feature built-in cord management systems and optional drip shields to provide protection from fluids, prevent cord damage and reduce tripping hazards in medical applications, leading to a safer, more organized workspace.
Key Features and Benefits:
PSCLAMP Mounting Clamp
-- Provides a safer environment when mounting medical-grade power strips on IV poles, beds, carts and other healthcare equipment
-- Mounting clamps fit diameter from 3/4" to 2 1/4" in a variety of applications
-- Included cord management system and optional drip shield
-- Fits any Tripp Lite Medical-Grade Power Strip
PS410HGOEMX Medical-Grade Power Strip
-- Versatile power distribution for mobile healthcare applications
-- 4 hospital-grade receptacles and hospital-grade plug
-- All-metal housing with built-in cord management system and optional drip shield
-- Tested to UL1363A to supply power to plug-connected components of moveable equipment
"Tripp Lite is always looking for ways to improve our solutions and address real problems in healthcare applications," said Molly Jantzen, Tripp Lite Director of Medical Sales. "Our new mounting clamp and medical-grade power strip add much-needed elements of safety, organization and convenience to facilities and directly address our customers' needs."
For more information on Tripp Lite's new PSCLAMP and PS410HGOEMX and to view the entire line of medical related solutions, including power strips, UPS Systems, surge suppressors and more, go to: Healthcare & Medical Applications and Solutions.
To download product images, go to: PS410HGOEMX image download.
About Tripp Lite
Outstanding product reliability and exceptional service have been Tripp Lite trademarks for 90 years. Tripp Lite's innovations include the world's first UPS system designed specifically for personal computers, and the world's most trusted premium surge suppressor--the Isobar®-with more than 18 million in use. Tripp Lite maintains the highest level of ready-to-ship inventory in the industry with more than 2,500 different products, including UPS systems, rack systems and cooling solutions, PDUs, PowerAlert software for enterprise-level system management and control, surge suppressors, KVM switches, cables and connectivity products, inverters, power strips and notebook accessories. Headquartered in Chicago, Illinois, Tripp Lite maintains a global presence with fully staffed offices worldwide. Additional information, including a list of Tripp Lite's sales offices and authorized reseller partners, can be found by visiting Tripp Lite's website: http://www.tripplite.com.