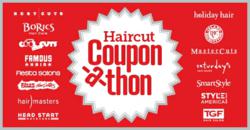 Minneapolis, MN (PRWEB) August 09, 2012
WHO - Parents, families and students who want great haircuts for fall and back-to-school
WHAT - The Haircut Coupon-a-thon
WHEN - Now through Sunday, September 30, 2012
WHERE - At 15 salon brands with over 4,500 participating locations across the U.S., Canada and Puerto Rico
SHARE YOUR LOOK - Share your new look on Twitter - #b2scuts
FALL FOR A NEW HAIRDO
According to the most recent U.S. Census, there are an estimated 55.5 million pre-K through 12th grade students heading back to school. For many families that are getting ready for fall and back-to-school, new haircuts are a must – for students and parents.
Now through September 30, visit any one of these 15 neighborhood salon brands and try a new cut for only $7.99 ($9.99 in select markets) on any adult or kid's haircut.
Go to the Beauty Bargains page, search for a participating salon near you and print! Then share your new look on Twitter, #b2scuts.

Best Cuts
BoRics
Cool Cuts 4 Kids (participating salons only)
Famous Hair
Fiesta Salons
First Choice Haircutters (participating U.S. salons only)
HairMasters
Head Start Salons
Holiday Hair
Island Haircutting Co.
MasterCuts
Saturday's
SmartStyle (located inside Walmart Supercenters)
Style America
TGF Hair Salon
In addition to nationally recognized professional haircare products, many of the salons listed also offer highlights, color, perms and waxing.
Each salon brand listed above is part of the Regis Corporation Family of Brands. For more information on Regis Corporation (RGS:NYSE), the beauty industry's global leader in beauty salons, hair restoration centers and cosmetology education, visit RegisCorp.com.