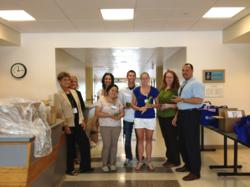 Camden, New Jersey (PRWEB) August 07, 2012
Lourdes Medical Associates, Lourdes Center for Public Health and Farmers Against Hunger have partnered on a program that is bringing free, fresh produce to patients at the Osborn Family Health Center in Camden.
Among the poorest cities in the nation, Camden is often referred to as a "food desert," with a limited number of supermarkets in the area selling fresh fruits and vegetables. As part of its mission to promote healthy communities and be a transforming, healing presence, Lourdes has worked to improve access to nutritious foods through a weekly farmers market and development of a transit village with a supermarket.
The New Jersey Farmers Against Hunger program is a hands-on approach to hunger relief in the state. Associated with the nonprofit New Jersey Agricultural Society, the 16-year-old program connects local farmers, grocery stores and produce suppliers with community organizations serving the neediest residents—children, seniors and the working poor. Since its inception, more than 15 million pounds of produce have been donated.
Farmers Against Hunger operates year-round. During harvest season, volunteers come to the farms to pick the crops for transport to distribution sites. In Camden, the food is delivered each Tuesday at 11 a.m. to Mount Calvary Church. Community outreach groups then take portions to distribute elsewhere.
Lourdes Medical Associates (http://www.lmanet.com), which manages Osborn, decided the program would have a significant impact on patients at Osborn, giving them an opportunity to get quality fresh produce at no cost. The first delivery to Osborn was July 31.
Founded more than 30 years ago, Osborn provides primary and specialty care in a private-practice setting to Camden area residents. Services include family practice, OB/GYN, pediatrics and lab testing. In 2010, Osborn conducted more than 52,000 patient visits, treating 17,000 people. Nearly 27,000 of those visits were for OB/GYN services and resulted in 1,050 deliveries.