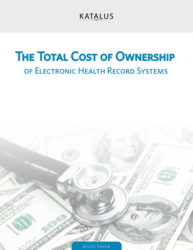 Alpine, UT (PRWEB) August 07, 2012
Katalus, a software and services company that helps healthcare organizations grow, today unveiled the healthcare industry's most comprehensive model for determining the total cost of ownership (TCO) of electronic health record (EHR) systems over a 10-year period.
The model itself will soon be available as a cloud-based solution at http://www.HospitalTCO.com, while the methodology behind it is outlined in a new Katalus white paper titled "The Total Cost of Ownership of Electronic Health Record Systems."
The new TCO model was constructed using the input of 27 chief financial officers (CFOs) from large and community hospitals that use a variety of EHR systems. With ample feedback from this group, the team at Katalus identified a number of limitations in virtually all of the currently available TCO models:
--Static – Hospital CFOs insisted that a truly useful TCO model must have the ability to adapt to changing market trends and operational realities.
--Limited – Today's models miss key components, including nuances in staffing, infrastructure, upgrade costs and security.
--Short-Sighted – When it comes to TCO, one of the biggest differentiators among the various EHR systems was not the upfront costs, but rather the cost of a major system upgrade, which typically happens 4-5 years post-install and is therefore outside the scope of most hospital financial considerations.
After validating these findings with financial executives, Katalus created a comprehensive TCO model that not only addresses the limitations, but also allows CFOs to much more accurately forecast capital costs than they've ever done before.
"With a project as massive as an EHR implementation, it's incredibly difficult to accurately forecast the total cost because there are so many variables. The price of the software is one element, but providers also have to consider staffing, infrastructure upgrades, cloud services and so on," said Katalus CEO Jeremy Bikman.
"Yet at the same time, inaccurately projecting that total cost can have a material impact on profit margins," he said. "I think that's the reason so many busy CFOs were eager to work with Katalus on developing this comprehensive TCO model. Not only does it remove a lot of the guesswork from projecting HIT costs, but it also allows them to make an apples-to-apples comparison of vendor bids."
While the Katalus TCO model is relevant for any major technology purchase, the current high rate of EHR implementations being driven by the American Recovery and Reinvestment Act (ARRA) of 2009 convinced the firm to focus its initial efforts specifically on that technology.
For more information, visit http://www.HospitalTCO.com.
About Katalus
Katalus helps healthcare organizations grow through a unique mix of cloud-based software solutions, strategic consulting, and business development and optimization. Our clients are found in North America, Europe and Asia. The principals of Katalus have worked with hundreds of healthcare organizations, vendors and other consulting firms across the globe.
To learn more, visit http://www.katalus.com.
###