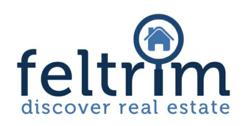 The social media portal works hand-in-hand with Feltrim's real estate portal.
Davenport, FL (PRWEB) August 07, 2012
Feltrim.com has completely transformed their website. The site originally launched back in 2010 and has proved very useful to Feltrim's agents and consumers, but now they're hoping to further their web presence.
liQuidprint, a Web design and development company located in Chicago, has implemented a social media portal that acts as a companion to Feltrim.com. It operates under a high-level of functionality that lists relevant results pulled from sites such as Yelp, CareerBuilder, Onboard, Groupon, Weather.com, Fandango, and Flickr, correlating to searched properties. The social media portal also draws pertinent results from social networking sites like Twitter, Facebook, and Foursquare. By incorporating social media into users' searches, Feltrim will be providing results that accommodate to the modern needs of today's society.
The social media portal works hand-in-hand with Feltrim's real estate portal. Visitors to the site can choose to use either, and the results will weigh heavier on one end depending upon which portal was chosen. Furthermore, Feltrim.com users are able to additionally contribute to the social media portions of the site by commenting and/or making recommendations on different vendors, properties, and locations.
Combining all of this information and interaction gives Feltrim's clients a fuller home buying experience that caters to the growing trends of today's online businesses: pooling a plethora of information and social data to allow consumers to make educated, trusted buying decisions.
To kick off the launch of their newly designed site, Feltrim is hosting a sweepstakes through Facebook. The contest requires participants to "like" Feltrim's Facebook page for an entry in a chance to win a three-night stay at the Tuscana Resort in Orlando. The prize is given out if 1,000 likes are reached, so, followers are encouraged to share the contest with their friends. Feltrim is even offering to double the number of winners if the number of Facebook "likes" doubles. Those interested in joining the sweepstakes need only visit Feltrim's page at http://www.facebook.com/Feltrim.
Feltrim is a dynamic, social property portal that delivers content to users based on their unique values, lifestyles, and individuality. Feltrim was founded in 2010 and holds its headquarters in Davenport, Florida.
###