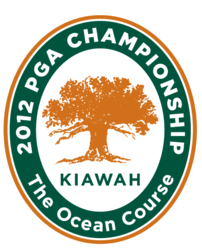 Many PGA Tour plays wear IonLoop each week because they believe in the product…
Dallas, TX (PRWEB) August 07, 2012
IonLoop's ion magnetic bracelets will, once again, be presented to PGA Championship competitors, caddies, and VIP's in Kiawah, South Carolina. A PGA Championship logoed bracelet was specially designed for this event.
This special edition bracelet features the PGA Championship logo and is available in four colors – black, white, orange, and turquoise. Event spectators at Kiawah will not miss out on the benefits of these ion magnetic bracelets to counteract the energy-draining UV rays of the South Carolina sun. IonLoop's exclusive PGA bracelets will be sold exclusively in the main merchandise tent at the PGA Championship. These will be available in limited quantities for purchase on-site for $20.00.
"The event is sold out and we expect to be sold out of bracelets by Sunday," said Melissa Gotfredson, IonLoop's CEO. The PGA Championship will be played on the Ocean Course and televised by CBS and TNT, August 9thth through August 12th 2012. "The Ocean Course hosted the highly emotional 1991 Ryder Cup and remains one of America's most unique seaside courses. Many PGA Tour plays wear IonLoop each week because they believe in the product…they will be anxious to add this year's version to their collection" said Gotfredson.
Each IonLoop PGA Championship bracelet is manufactured with IonLoop's pioneering Ion Regeneration Technology and exceptionally strong magnets. A representative of IonLoop will be on site, at the 2012 PGA Championship, to answer any questions about IonLoop and IonLoop's innovative technology.
For additional information about IonLoop, Ion Regeneration Technology™, or how to purchase an IonLoop bracelet: visit: http://www.IonLoop.com.