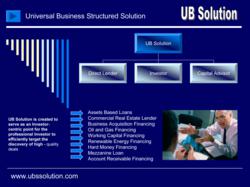 Guide to the Bridge Financing provided by Private Capital Sources. Courtesy of Universal Business Structured Solution.
New York, NY (PRWEB) August 13, 2012
Universal Business Structured Solution creates a new innovative way to provide borrowers with Out of the Box Financial Solutions for Bridge Financing. More information on this product will be available on the Universal Business Structured Solution's web site on August 16th, 2012.
Bridge Financing is a short term financial solution that provides necessary liquidity while waiting for an anticipated and reasonably expected exit strategy (inflow of cash). Bridge Loan is more expensive than other more conventional loans, but can be funded in a relatively short period of time.
Private Investors have more lenient underwriting requirements, but would call for:
a). Proof of the value of the underling collateral and Financing a lower LTV amount
b). Quick liquidity of underlying assets in case of nonperformance (ability to auction assets in a short period of time)
There are two types of bridge loans: Closed Bridge and Open Bridge.
1. Closed Bridge Financing is where the client has a definite date and commitment from another Funding Source for a take out financing. Lender knows exactly when and how the loan will be paid back, so this option is less risky and therefore will have lower interest rate comparing to the second option. In some cases the Bridge Lender is able to provide a permanent financial solution and bring this transaction to the lowest possible level of risk for the both parties: The Lender and the Borrower.
2. Open Bridge Financing does not have defined exit strategy: take out financing commitment, date, etc. This transaction brings much higher risk to the Lender and therefore is more expensive.
Without a sufficient knowledge on the subject, prospective borrowers loose a comparative advantage that would otherwise allow them:
I. Bring the deal that requires Bridging Finance to the Right Funding Sources
II. Negotiate and Close in a timely matter.
If Bridge Financing is an essential element for the future of the business, please read the information below and become prepared and organized before you talk to any lending source:
1. Bridge Financing considered a very risky loan. The most important thing any lender wants to make sure of is that loan shall be paid back on time and with required interest.
2. Have clear exit strategy in place (Saying if anything happens, the building will be sold in the open market- is not a good exit strategy. Having a commitment for a permanent financing in place - is a very good exit strategy).
3. Know asset classes that are accepted for a Bridge Financing:
a). Commercial Real Estate
b). Eligible company's assets: Accounts Receivable, Finalized Purchase Orders, Inventory and Equipment
c). Other Valuables: Paintings, Wine Collection, Work of Art, Jewelry, Publically Traded Securities, etc.
Different assets, depending on a liquidity, cash flow, demand, etc. will call for different loan term.
If different assets should be combined under one roof for a purpose of a Bridge Financing be prepared to analyze Weighted Averaged Cost of Capital on the project.
4. Most of the Bridge Loans financed by a Private Capital Source is Interest Only loans with a Balloon Payment at the end. Lender usually wants to see the ability to pay monthly payments and the final Balloon Payment.
Be ready to provide the following
a). Historical Company's Financial Statements and at least couple of years of future projections.
b).Information on Company's assets value
c). Outstanding debt schedule: amount, lender's name, maturity, interest
d). Personal Financial Statement on all principals
5. Post-Financing Performance:
Be prepared to strengthen and finalize the case with improved Post-Financing Performance.
Universal Business Structured Solution occasionally gets requests to provide Bridge Loan collateralized by hard to finance assets: Raw Land, In Ground non-producing Oil and Gas, etc. Is it possible? Yes, but please be prepared to do your job as a Borrower: be ready to prove the ability to pay the loan back with an interest and have a clear exit strategy in place.
Getting a Bridge Financing puts company at much greater risk comparing to a conventional loan, so this process has to be very carefully planned and potential risk must be assessed.
Universal Business Structured Solution is equipped with specialized knowledge of the marketplace. By examining every aspect of our client's business Universal Business Structured Solution is able to engineer affordable financing quickly and efficiently.
Contact Universal Business Structured Solution for more information regarding our services, or for an initial consultation and evaluation.
Yury Iofe, Managing Partner, MBA
Universal Business Structured Solution
yiofe(at)ubssolution(dot)com
http://www.ubssolution.com
More educational resources:
http://ubssolution.com/education.htm