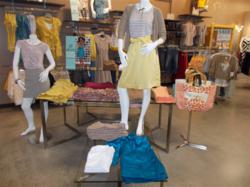 Moscow, ID (PRWEB) August 07, 2012
DownEast, a high-style, low-price retailer that specializes in trendy fashions as well as modest clothing, now has a presence near the University of Idaho with the opening of a DownEast Clothing store in the Palouse Mall. The store carries the DownEast Basics line of high-design yet budget-friendly clothing for women, teens and girls, as well as some of the most popular other national fashion brands for women, men and children – at prices often 50 to 70 percent off the suggested retail.
To celebrate the new store, DownEast will host an official grand opening event – giving shoppers a chance to enter a "Shopping's More Fun with Your Friends" giveaway.
"We enjoy a rapidly expanding footprint in Idaho, with the Palouse Mall location marking the eighth DownEast store in the state," said Rich Israelsen, chief operating officer for DownEast. "The tremendous success of our other Idaho stores made it a simple decision for us to open in Moscow. We exceeded our first-week sales expectations and we're very appreciative of the enthusiastic response from local shoppers."
Israelsen added that the company is especially excited to share its "boutique on a budget" philosophy with students at UI. The just-off-campus location puts DownEast's stylish, quality clothing within their easy reach – and at prices they can truly afford.
DownEast Offers "Shopping's More Fun with Your Friends" Giveaway
To celebrate the new opening, DownEast is offering a chance to enter a "Shopping's More Fun with Your Friends" giveaway from Friday, August 10, to Friday, August 17, 2012. Customers can register for the giveaway at the new DownEast Clothing store at the Palouse Mall. The giveaway will award one lucky winner a shopping spree valued at $200 and also present a $50 gift certificate to each of four friends selected by the winner. The winner does not have to be present at the time of the drawing on Saturday, August 18, to win.
For contest updates and fashion news, customers can join the DownEast Basics Facebook Fan Page. They can also follow the DownEast By Design blog (downeastbasicsblog.com) for insights from DownEast's Product Development team.
Visit the New DownEast Clothing Store at the Palouse Mall
The new DownEast Clothing store is located in suite 2014 in the Palouse Mall at 1850 West Pullman Road in Moscow. It is next to Zumiez near Macy's.
James Walker has been named as the store's manager and will oversee a staff of eight. His previous retail management experience includes positions at both Rue 21 and Famous Footwear in the Palouse Mall.
About DownEast
DownEast (http://www.downeastbasics.com), a leader in stylish and affordable apparel, home furnishings and accessories, believes that shopping should be a fun, guilt-free experience. Founded in 1991 and still family owned and operated, DownEast continues its goal of bringing customers the very best merchandise – from national brands to its own DownEast lines of home furnishings and DownEast Basics apparel – at the very best prices.
Shop for cute tops, womens sweaters, modest dresses and accessories at Downeastbasics.com.
The fast-growing retailer operates nationally with its Basics line via its online store in addition to 50 locations throughout the West including in Utah, Colorado, California, Idaho, Arizona, Washington, Nevada and Wyoming.
# # #