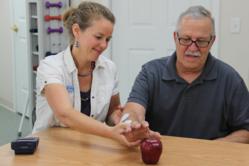 "What makes the Saebo MyoTrac Infiniti so unique is not only the biofeedback triggered stimulation programs, but the ground breaking, patent pending Reciprocal EMG Triggered Stimulation (RETS)." - Al Guerra, President, Saebo, Inc.
Charlotte, NC (PRWEB) August 08, 2012
Saebo, Inc., a leading international provider of neurological rehabilitation products, announced today that it has created a specialized EMG/biofeedback triggered stimulation device designed to restore lost mobility and improve functional outcomes for individuals affected by neurological and orthopedic injuries.
The Saebo MyoTrac Infiniti, developed jointly by Saebo, Inc. and Thought Technology, a leading manufacturer of biofeedback and stimulation products in Montreal, Canada, is an elegant, portable all-in-one biofeedback stimulation clinical solution. The Saebo MyoTrac Infiniti builds on the existing Biofeedback and E-stim platform and adds two advanced features, including a first-of-its-kind Reciprocal EMG Triggered Stimulations (RETS).
"The Saebo MyoTrac Infiniti was a great opportunity for us to provide our medical engineering expertise for the development of a unique clinical solution integrating biofeedback EMG and functional e-stim," stated Dr. Hal Myers, Thought Technology's President.
Research shows that biofeedback triggered stimulation is beneficial to the client's recovery process. It is based on the client's volitional movement or intent to move. Once the client attempts to activate his or her muscles and reaches the prescribed level, stimulation is triggered to the same muscles. Various visual and auditory feedback options monitor progress. This voluntary based application requires the user to actively participate in order to receive the stimulation. By incorporating the cognitive relearning process neuroplasticity can be achieved.
"What makes the Saebo MyoTrac Infiniti so unique is not only the biofeedback triggered stimulation programs, but the ground breaking, patent pending Reciprocal EMG Triggered Stimulation (RETS). It is the next in a series of products that make Saebo a market leader through innovation," stated Al Guerra, Saebo's President.
"RETS is an advanced form of biofeedback stimulation that was specifically developed for neurological clients with increased tone and spasticity. These individuals have a difficult time relaxing or "shutting off" their hypertonic muscles. The RETS biofeedback technology involves both the agonist and antagonist muscles. Stimulation is triggered to the weakened muscles once the client deactivates or relaxes the opposing hypertonic muscles group," Guerra concluded.
Patients suffering from foot drop can also benefit from Saebo's specialized biofeedback triggered stimulation technology. During the gait cycle, this unique foot drop stimulation system monitors the client's very own EMG signal and triggers the stimulation to the nerve and muscles allowing the foot to lift and clear during walking.
"We are excited to add the Saebo MyoTrac Infiniti to our growing suite of products. For years, we have developed and commercialized innovative evidenced based solutions that are meaningful to our clients' needs. Creating this unique technology that offers continued hope to many is not only rewarding, but in line with our company mission," stated Henry Hoffman, Saebo's Co-Founder. "One of the compelling features of the Saebo MyoTrac Infiniti is that the client becomes an active participant during the treatment process. Stimulation is only provided once the client either contracts or relaxes their targeted muscles to the preset level created by the clinician. Therefore, the client truly controls the device instead of the device controlling the client," Hoffman concluded.
###
About Saebo, Inc.
Saebo, Inc. is a global provider of innovative rehabilitation products for stroke survivors and other neurologically impaired individuals. Headquartered in Charlotte, NC, the company was founded in 2001 by two occupational therapists specializing in neurological rehabilitation. Saebo's pioneering products are based on new research documenting neuroplasticity, the brain's remarkable ability to recover following injury. The company's line of therapeutic devices, SaeboFlex, SaeboReach, SaeboStretch, and SaeboMAS allow patients with very little residual hand and arm function to participate in the intensive therapy needed for functional recovery. Named Most Valuable Product in 2008 by Therapy Times, the SaeboFlex and SaeboReach are now offered at over 1,500 clinics and hospitals nationwide. Used within 22 of the "Top 25 Rehabilitation Hospitals" (U.S. News & World Report), many of Saebo's products are eligible for reimbursement by Medicare and most commercial insurers. A network of over 6,000 Saebo-trained clinicians, spanning four continents, is committed to helping individuals around the globe achieve a new level of independence. For more information, visit http://www.saebo.com or contact Al Guerra at aguerra(at)saebo(dot)com or 704-731-2404.
About Thought Technology Ltd
Founded in 1975, Thought Technology Ltd is the world leader in research, development and manufacturing of biofeedback hardware and software for the accurate recording and analysis of a wide variety of human physiological and mechanical signals. Over the years, its medical instruments have become the essential part of many therapeutic and clinical protocols, and its expertise an integral part of many medical devices. For more information, visit http://www.thoughttechnology.com or call 1-514-489-8251.