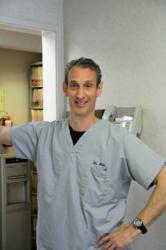 Englewood Cliffs, NJ (PRWEB) August 07, 2012
Michael Margolin, D.M.D., helps dentures last longer by using dental implants. Implant supported dentures mimic healthy, natural teeth in a number of ways. They are strong enough to use to chew foods normally, they stay in place so they do not affect speech, and they stimulate the jawbone and help to prevent bone loss. Lastly, they look like natural teeth when a person smiles. People who are tired of the embarrassment of denture slippage, or who would like to go back to eating normal foods, may want to consider dentures that are supported by implants.
Implant supported dentures come in two types; bar-retained dentures and ball retained dentures. Both of these types are very secure. The basic difference is that the bar-retained dentures are held in place with clips or other attachments, while the ball-retained dentures snap into place with a ball and socket configuration. Both are quite secure, and the doctor will help patients determine which style is best for them.
Dr. Margolin will evaluate patients on an individual basis to see if they are candidates for denture implants. X-rays and impressions are made to aid the doctor. The first step in the implant process is to surgically install the dental implants. Approximately three to six months are allowed for the titanium implant to fuse with the jawbone. Then, another surgery is performed where the tops of the implants are exposed and a healing cap is placed on each of them. About two weeks later, the caps are replaced with the standard abutment, and the abutment is attached to the bar or ball and socket. The dentures are then fitted for comfort.
Caring for your dentures that are supported by dental implants is relatively easy. One simply removes the denture and thoroughly cleans it, generally each night. A patient will also receive instructions on how to clean the attachments so that gum decay or disease can be prevented. By following Dr. Margolin's instructions carefully, a patient's beautiful, new smile can last for many years. To learn more about implants and how they can improve dentures, visit newjerseylasergumdentist.com.
Margolin Dental Associates is a general practice offering patients personalized dental care Englewood Cliffs, NJ. Michael Margolin, D.M.D. received his B.A. in Economics from Ithaca College and earned a Doctor of Dental Medicine Degree from Fairleigh Dickinson University. After graduating he joined his father and his brother in a group practice where he has worked for the past 21 years. Dr. Margolin is part of one percent of dental professionals providing the most recent FDA cleared laser procedure for gum disease and periodontal treatment. To learn more about Margolin Dental Associates and their dental services visit their website at http://www.newjerseylasergumdentist.com and call (201) 399-4703.