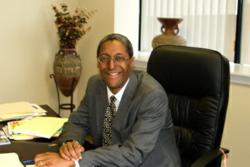 Lloyd will help us meet the needs of hundreds of thousands of Asian students...
Palo Alto, CA (PRWEB) August 17, 2012
Lloyd Peterson is Vice President of Academic Strategy at College Admission Counseling Service (CACS) in Shanghai, China. However, his years of experience in American education give him a unique perspective on global education. It was that perspective that prompted CollegeOnTrack to invite him to join its Advisory Board.
Mr. Peterson spent nearly two decades in college admissions and counseling in the USA before joining CACS. Starting in the admissions office of Colorado College, he rose to become Director of Admissions at Yale University, and then Director of Admissions at Vassar College. Along the way, he became an acclaimed lecturer, consultant, and writer on key college admissions topics. He recently served as the commentator for CNBC's College Preview Show.
Mr. Peterson has served as Co-Chairman for the Association of Black Admission and Financial Officers of the Ivy League and Sister Schools, and is a member of the National Association of College Admission Counseling and The College Board. He graduated magna cum laude in Medieval Literature, and holds a Master of Science degree in Education, both from the University of Colorado.
CollegeOnTrack is very pleased to welcome Mr. Peterson as the first China-based member of a board that includes educators from across the United States. Marketing V.P. Phil Roybal says, "Lloyd will help us meet the needs of hundreds of thousands of Asian students who want to study at American colleges."
CollegeOnTrack is now offering webinars on the use of its college planning tools. Readers can request information or a presentation at http://sales.collegeontrack.com.
About CollegeOnTrack
CollegeOnTrack was established in 2010 to provide web-based college planning tools for families, schools, and counseling firms. It offers a combination of rich digital portfolios, collaboration support, and task management that helps students build a mindset of success and create strong college applications. The company was a semi-finalist in the 2011 Berkeley Business Plan competition.
CollegeOnTrack ran successful tests last year at high schools in California's Santa Clara County, where students and teachers have been enthusiastic about the product. It was released to the public in January, 2012.
For more information about this topic, or to schedule an interview, contact Philip Roybal at (408) 782-4244, or phil(at)collegeontrack.com.