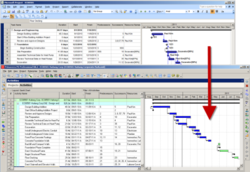 Our clients can focus on creating a winning proposal and not have to worry about the technicalities of converting their data.
Virginia Beach, VA (PRWEB) August 07, 2012
Ten Six Consulting, LLC introduced a formalized Microsoft Project to Primavera P6 data conversion service. With short lead times to submit a bid, companies often struggle to convert their Microsoft Project data in to Primavera P6 format. Attempting to do it alone requires not only acquiring the Primavera P6 software, but also learning how to use it to then being able to convert their data. The time and cost of doing this is often prohibitive considering that typical proposal effort is not client-funded.
"There are many Microsoft Project users who are bidding on contracts that require their plans to be submitted in Primavera P6 format." said Emily Foster, Director of Marketing. "Ten Six's new data conversion service allows our customers to convert their Microsoft Project data within 24 hours into Primavera P6 format. Our clients can focus on creating a winning proposal and not have to worry about the technicalities of converting their data."
More details on the new service are below:
Microsoft Project to Primavera P6 Data Conversion Service - This service offers a 24-hour data conversion from Microsoft Project to Primavera P6. Simply send Ten Six your Microsoft Project MPP file. Our Primavera P6 experts will import it into Primavera P6, perform a line-by-line validation of the dates, durations, network logic and resources and then send you a P6 .XER or P6 .XML formatted file along with a Gantt chart report so you can see what your customer will see.
Validation also includes making corrections that are typically required due to philosophical differences between the two systems; particularly concerning the Indentation vs. WBS structure, milestone types and effort-driven task types.
Learn more at http://www.tensixconsulting.com/microsoft-project-to-primavera-p6-conversion-service/
This new service addresses a common problem that many engineering and construction companies are faced with, which is satisfying the data requirements that their customers are demanding. "Historically, some companies have tried to submit their Microsoft Project plans and let their customers convert the data. This means that they are relying on their potential customer to correct any errors that may occur during the conversion process. There are different versions of Microsoft Project and many versions of Primavera P6 in use today. Our quick turnaround data conversion service can address any of these versions and formats. Simply let us know which version of Primavera P6 your client is requiring the data in and we'll do the rest," says Foster.
For more details about Ten Six's Microsoft Project and Primavera P6 services and training classes, http://www.tensixconsulting.com/
About Ten Six Consulting - Ten Six Consulting specializes in implementing Enterprise Project Management (EPM), Project Portfolio Management (PPM) and Earned Value Management (EVM) solutions. As experts in implementing enterprise tool suites from Oracle Primavera, Deltek and Microsoft, Ten Six Consulting has unparalleled experience in successfully integrating these tools into client organizations, significantly improving their Project Management, Project Portfolio Management and Earned Value Management capabilities.
Contact: Emily Foster, Director of Marketing Ten Six Consulting, LLC Phone: 703-910-2600 Email: emily.foster@tensixconsulting.com