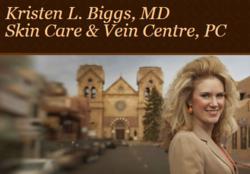 As an educated patient, I think you want the most highly trained expert in venous disease to be treating you, to ensure the best possible outcome. My skills enable me to deliver outstanding results to my patients." — Kristen L. Biggs, MD
(PRWEB) August 06, 2012
Kristen L. Biggs MD is bringing a wealth of talent, accolades and skill sets to the Santa Fe, New Mexico, skin care and vein health community by opening a new facility dedicated to providing these services. In celebration of this achievement the company is holding a grand opening from 5 to 7 p.m., Friday, August 10, 2012. People are invited to enjoy refreshments, hors d'oeuvres, and David Yard's classical guitar music as they learn about the company's skin care and vein services. This event and the business are featured on Santa Fe visitor guide SantaFe.com
Attendee's are encouraged to enter to win one of the fabulous door prizes which are as follows:

A free one month membership and a free private personal training session from Buddha Fitness Club, valued at $180
The Royal Standard Cheetah Travel Case and a $200 gift certificate to Queen's Ransom
A two hour portrait or family photo session and two professional large photos, courtesy of Terry Behal Photography, valued at $600
One lucky winner will receive a gift certificate for a MiXto® laser resurfacing, valued at more than $2,500.
Dr. Kristen L. Biggs is the only female board-certified vascular surgeon in New Mexico who specializes in the diagnosis and treatment of venous disease. She completed a six year general surgery residency program at The University of Texas Health Science Center at San Antonio, followed by a two year vascular surgery fellowship at UCLA. She is board-certified in both general surgery and vascular surgery.
Dr. Biggs relocated to Albuquerque in 2008 to become Assistant Professor of Vascular Surgery at The University of New Mexico Hospital. Always interested in staying current in her field, she happily accepted an additional mentorship position as the Associate Program Director of General Surgery. Additionally, she served as the Medical Director of the UNM Vein Center from 2010 until she founded her own practice in July 2012.
Dr. Biggs lives in New Mexico with her husband, Jonathan, and their son, Carter, who is almost one year old. The family supports Girls Incorporated® of Santa Fe, and applauds its message of "inspiring all girls to be strong, smart, and bold.℠" Dr. Biggs's hobbies include playing the violin, creating graphite sketches and medical illustrations, and photography. She and her husband can frequently be spotted at the Santa Fe Opera, gallery events, and enjoying all of the beautiful things in Santa Fe.
"There is a huge community need for awareness and appropriate care of patients with venous problems. In recognition of this need, a national campaign was launched in April 2012 called "Rethink Varicose Veins." The Society for Vascular Surgery and the American Venous Forum are governing members of this campaign which educates patients about varicose veins and chronic venous insufficiency, as well as the importance of seeking treatment before the condition progresses. As an educated patient, I think you want the most highly trained expert in venous disease to be treating you, to ensure the best possible outcome. Only a board-certified vascular surgeon will have an intimate understanding of vascular anatomy, comprehensive knowledge of vascular procedures, and the technical expertise to achieve superior results. My skills enable me to deliver outstanding results to my patients." — Kristen L. Biggs, MD
Contact Information
Dr. Kristen L. Biggs
Kristen L. Biggs, MD Skin Care & Vein Centre, PC
409 St. Michaels Drive, Suite A & B
Santa Fe, New Mexico 87507
505-695-7070 | 855-695-7070 (toll free outside Santa Fe)
About SantaFe.com:
SantaFe.com provides locals and visitors to Santa Fe alike the most current interactive platform for events, music, arts, business, dining and lifestyle. SantaFe.com is a division of Hutton Broadcasting, located at 2502 C. Camino Entrada, Santa Fe, NM 87507
Contact Information:
Scott Hutton
SantaFe.com / Hutton Broadcasting
http://www.santafe.com
(505) 471-1067 (Media inquiries only, please)