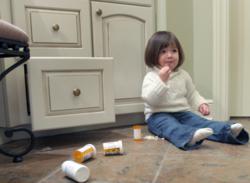 More children are taken to emergency departments for medication poisonings than for motor vehicle injuries.
St. Petersburg, FL. (PRWEB) August 08, 2012
Drug Free America Foundation (DFAF) is joining forces with MedSafe, Inc. and community leaders nationwide in an effort to curb the biggest problem facing our youth today – prescription and over-the-counter drug abuse and overdose. Scheduled to coincide with the DEA's National Prescription Take Back Day on September 29, DFAF will collaborate with local organizations to distribute medication lockboxes as people drop off their unused and unwanted medications across the country. "Operation: Medication Lockbox Giveaway" is the first-ever program of its kind designed to not only raise awareness of the need to lock up medications, but also provide the means to do so.
DFAF will kick off the campaign's fundraising efforts on August 11 by giving away 50 medication lockboxes at select Walgreens locations. "Walgreens is proud to help DFAF launch this important campaign", said Sean Vanbrocklin, Walgreens Community Leader. "Each year, more than 500,000 children under the age of five experience a potential poisoning related to medications. Keeping kids safe in our communities is a top priority for Walgreens and this campaign is a great way to help do that".
"Medication poisoning is a significant problem today – both from an accidental ingestion standpoint as well as intentional abuse," said Calvina Fay, Executive Director of Drug Free America Foundation. "More children are taken to emergency departments for medication poisonings than for motor vehicle injuries. Approximately 2,500 children between the ages of 12 and 17 abuse a prescription medication for the first time every day and over 70% of the prescription drugs illegally obtained by teens come from their own homes or the homes of relatives and friends. This campaign will help secure medication in homes as well as raise awareness in families about medication abuse," Fay concluded.
The campaign goal is to give away 10,000 lockboxes- 100 in each of 100 different communities. With sponsorship levels ranging from $500 to $750,000, Drug Free America Foundation is hoping to raise enough money to make the lockbox giveaway an ongoing program.
Visit http://www.LockboxGiveaway.com for more info on the campaign or call 330.881.8353 to donate.
About Drug Free America Foundation
Drug Free America Foundation, Inc. is a 501(c)(3) nonprofit drug prevention and policy organization committed to developing, promoting and sustaining global strategies, policies and laws that will reduce illegal drug use, drug addiction, drug-related injury and death.
Drug legalization and permissive drug policies will lead to a greater availability of dangerous drugs in our communities and undermine each nation's commitment to law enforcement, health care, education, commerce and the family. Drug Free America Foundation is a Non-Governmental Organization (NGO) in Special Consultative Status with the Economic and Social Council of the United Nations.
To learn more about Drug Free America Foundation please visit http://www.DFAF.org.
About MedSafe
The MedSafe is the first-ever electronic lock-box designed to safely and conveniently store medications. Installing easily into most existing medicine cabinets and holding up to 15 bottles of medicine, the state-of-the-art lock-box features 19,500 changeable combinations and is the perfect defense against prescription drug abuse among children. The MedSafe can be easily affixed to the inside of almost any medicine cabinet with the four self-tapping screws included with each unit, and can also be stored in a dresser drawer, kitchen cabinet or closet shelf.
To learn more about the MedSafe, please visit http://www.HelpSaveOurKids.com.