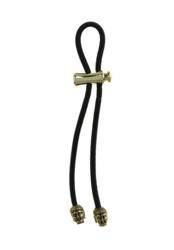 We love getting feedback from our customers for new color combinations
New York, NY (PRWEB) August 21, 2012
Pulleez International announced today that it will be adding two new styles to their hair accessory line for the fall.
"Since we launched our collection we've gotten a lot of requests to combine our black elastic with gold bejewling," said Pulleez creator Diana Wright, "and we thought that this would be the perfect time to introduce them."
The two new styles are gold buddha on black elastic and the popular classic gold nugget on black elastic.
Diana is former fashion week show producer that began her career working for renowned fashion pioneer Eleanor Lambert. Diana set out to create a comfortable and stylish hair accessory that wouldn't snag hair as traditional elastics do. She spent more than a year handcrafting the pieces until they became effortless to wear.
Diana brought her ponytail holders to New York Fashion Week last season where they were an instant hit with both designers and models. Many of the models wore the pieces on their wrists as bracelets. Encouraged by the response, she decided to build a brand to meet the demand and soon after the Pulleez line was picked up by Henri Bendel in New York.
Pulleez are secured by sliding hair through the elastic once. The wearer then squeezes the Pulleez while pulling the elastic to a desired tightness. There is no need to wrap the elastic multiple times as with conventional elastics. To release, simply squeeze again to open and slide it out. The design completely eliminates hair snagging.
Pulleez are available online at http://www.pulleez.com and http://www.folica.com. Retail Prices range from $14 to $24. For more information or to contact the designer please contact info@pulleez.com.