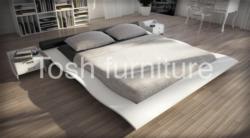 Modern Furniture at affordable prices
(PRWEB) August 08, 2012
Finding today's modern home furnishings has never been easier. For years, Modern Furniture Warehouse has perfected the model for affordable and quality contemporary furniture. With more imports than any other company of its size, it's able to not only remain competitive, but Modern Furniture Warehouse is able to offer the widest selection to meet the styles and design elements of today's savvy shopper.
With a consistent growth projected throughout 2012, the addition of more home furnishings partners and the many other perks the company has built its reputtion on, such as free shipping and instant credit approval, the addition of new portals around the nation ensures the company can meet the needs of consumers from coast to coast with quicker turnaround delivery times.
With a focus on the needs of today's family, Modern Furniture Warehouse can offer safe, easy and convenient shopping online without the hassles associated with traditional shopping. Eliminating the stress and high retail prices, the company forges ahead with solid reputation and world class service. Company officials cite their commitment to the satisfaction of each customer and say that's often lacking in many of today's consumer-merchant transactions. "Too many times, it's more about the sale at the end of the day and less about ensuring the customer is not only satisfied with his purchase, but comfortable with the company he's just done business with. Our goal is to ensure that level of comfort and satisfaction with each transaction."
Customer service representatives are accessible via phone, instant chat and email. The easy to browse website only adds to the Modern Furniture Warehouse experience.
A few of its partners include Tosh Furniture, known for some of the most impressive modern beds, leather sectional sofas and outdoor furniture; Abbyson Furniture, an internationally known brand that's offered beautiful contemporary home furnishings for decades and ItalModern, which includes some of the most spectacular Italian designs that are as artistic as they are functional.
Consumers can reach Modern Furniture Warehouse via its website, phone, email or social networking sites Facebook, Twitter and Pinterest.