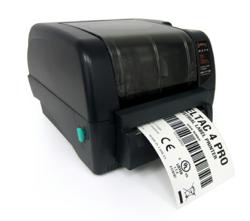 Printing UPC barcodes is a lot easier with the LabelTac 4 PRO!
Lake Oswego, OR (PRWEB) August 07, 2012
Creating UPC barcodes was once a task that was outsourced at high cost, but with the LabelTac 4 PRO from Creative Safety Supply, companies can now perform their UPC barcode label printing in-house, and save money in the long run.
Gone are the days when companies had to buy thousands of UPC labels in advance, and if there was a change in product model numbers, sizes, etc, the labels would need to be discarded. Now, with the LabelTac series, printing labels on-demand can save some companies headaches in time, costs, and inventory storage.
With its large capacity thermal ribbon, rugged construction, and fast print speed, printing UPC barcodes all day is easy with the LabelTac 4 PRO. Call 1-866-777-1360 for more information, or visit Creative Safety Supply on the web at http://www.creativesafetysupply.com