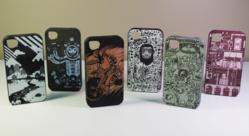 Minneapolis, MN (PRWEB) August 15, 2012
The next sheet of paper you toss into the recycling bin may end up protecting your phone and upping your style status. Twig Case Co. introduces a series of iPhone cases laser-engraved with intricate independent art and made with ultra-durable Richlite® paper-composites crafted from recycled and responsibly harvested materials. Twig is the first company to offer cases for iPhones that are FSC® (Forest Stewardship Council™) certified by the Rainforest Alliance for meeting stringent land-management and environmental standards.
Twig is the brainchild of John Woodland, a legendary guitar designer for the stars, who discovered Richlite while building the first FSC-Certified six-string for Wilco front man Jeff Tweedy and C.F. Martin & Co. guitars in 2011. Woodland and his business partner, designer Jon Lucca, liked the aesthetics of wood phone cases but were always disappointed in the poor durability and tendency to break. Richlite is an industrial product that has been used by the aerospace, marine, commercial food, outdoor skate park and architectural industries since 1943. The material blends a natural appeal with unmatched strength that, like wood, develops its own character over time.
Lucca liked Woodland's concept, and after some detailed sketches they designed what would become the Twig Case. Milled from half-inch-thick Richlite blocks, made in Tacoma, Wash., these precision case blanks are laser-engraved in Lucca's Waseca, Minn., studio with modern designs from popular artists like Jim Woodring, up-and-coming French artist Exit Man, local independent artists along with some of Lucca's own illustrations.
Soon cases from Wilco and other bands that Woodland works with will be available through the bands' official stores and fan sites. The products are designed and made in Minnesota with American-manufactured materials. Several case designs incorporate FSC-Certified bamboo veneers and colored Richlite topsheets to enhance the artistic contrast and fine details. Retail prices begin at $59. Cases with custom designs may be directly ordered through Twig for an additional fee.
Twig cases are currently available through TwigCase.com.