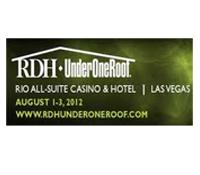 I heard everyone talking about your hand gel, and I just had to try it!
Marietta, GA (PRWEB) August 07, 2012
fiteBac SkinCare amazed attendees at the RDH Under One Roof Conference in Las Vegas, Nevada, last Wednesday through Friday, August 1st through the 3rd. The annual conference attracted hundreds of registered dental hygienists from all over the country and offered a series of Continuing Education courses, social events, and an Exhibition Hall, where attendees were introduced to fiteBac's unique hand sanitizing gel.
Visitors to the fiteBac booth were given a pea-sized sample of fiteBac SkinCare Germicidal Hand Softening Gel and told to rub their hands together. "That's all I need?" many of the attendees asked in amazement. Others reacted to the product with an excited "Wow" or an intrigued "What is that? It's wonderful!"
Some visitors readily identified the silicone base of the hand sanitizing gel and expressed their appreciation for the way it felt on their skin. Nearly all visitors were also awed by the germicidal efficacy of the fiteBac product, as confirmed by studies conducted by leading infection control experts. Other visitors approached the fiteBac booth with enthusiastic news to report: "I heard everyone talking about your hand gel , and I just had to try it!"
The excited and impressed visitors were able to purchase 1 oz, 3 oz, and 8 oz versions of fiteBac Germicidal Hand Softening Gel to take back to their homes and dental offices. Many visitors expressed their gratitude that they could carry the 1 oz and 3 oz tubes through airport security, while others expressed enthusiasm for the 8 oz bottle, which has over 900 applications.
"Everyone will be using fiteBac within a matter of months," said Dr. Kirk Kimmerling, co-founder and CEO of Kimmerling Holdings Group, LLC, the Georgia-based biotechnology company that owns fiteBac. "Our hand sanitizer is the hand hygiene protocol of the future. The RDH Under One Roof attendees were excited to hear this news and couldn't wait to take fiteBac back to their dental offices."
fiteBac's Germicidal Hand Softening Gel has garnered praise from dentists, hygienists, healthcare professionals and industry-leading evaluators and publications, who celebrate its smooth, velvety feel and sanitizing properties. Dr. John Molinari of THE DENTAL ADVISOR recently conducted a product analysis of the fiteBac hand gel in which fiteBac exhibited high levels of germicidal activity. fiteBac's skin-softening properties combined with its germicidal efficacy make it the perfect solution for healthcare professionals who want to make the commitment to hand hygiene excellence and improve the condition of their skin at the same time.
The RDH Under One Roof Conference was held in Las Vegas, Nevada, at the Rio All-Suite Hotel & Casino. The conference took place from August 1-3. Visit http://www.rdhunderoneroof.com for more information.
About fiteBac™ SkinCare, LLC, and KHG:
fiteBac SkinCare, LLC, is a subsidiary company of Kimmerling Holdings Group, LLC ("KHG"), a Georgia-based biotech company that has developed an antimicrobial platform intellectual property technology. KHG was founded in 2009 by Marietta dentist Kirk Kimmerling, DDS, and Dan Kearney. The two set out to create products that would "change the world, one product at a time." Kirk and Dan first targeted bacterial issues in dentistry, knowing that solving those problems would lead to dramatic improvements in oral health and, more importantly, systemic bodily health. They engaged a team of highly accomplished chemists and scientists retired from Fortune 500 companies and researchers from major universities. In doing so, KHG has developed technology with several patents pending that has application well beyond dental materials and has exciting potential in medical, plastic, composite, coating, and other applications that are in various stages of development. fiteBac SkinCare Hand Softening Gel is the first product to be released under the fiteBac brand name. To learn more about fiteBac SkinCare Germicidal Hand Softening Gel, watch fiteBac's Germicidal Hand Gel video. For more information on the Marietta family dentist Dr. Kirk Kimmerling DDS, click here.