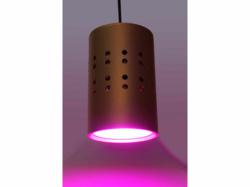 With the LED Comet, within one week the plant took off like a rocket and has been growing about 1/2"to 1" a day..
Ormond Beach FL (PRWEB) August 06, 2012
HID Hut, a leading Internet-based retailer of indoor gardening supplies and hydroponic systems, recently announced the release of the LED Comet Magenta Grow Light. This innovative LED grow light combines four spectrums of light into one chip, producing a single, spectrum balanced light that optimizes the photosynthesis process. This new light is unique from any other light developed by combining all the LED's into a single chip to create one spectrum of balanced light.
High Times magazine is praising the LED Comet and is acclaiming the product among its "Gear of the Year", a rare honor accorded only to the latest and greatest technological innovations in hydroponics and indoor growing.
The technology employed in the LED Comet eliminates the problem of "color spotting." Most LED grow lights must be kept at least two feet away from the plants in order for the color spectrum to blend effectively prior to reaching the surface of the leaves. The Comet's light spectrum is "pre-mixed," however – which allows gardeners to place the light as close to the leaves as necessary. Using wavelengths of 430nm, 460nm, 630 nm and 660 nm, it is possible to target specific peaks of phytochrome, the photoreceptive pigment that regulates the production of chlorophyll as well as seed germination and leafing in most types of flowering plants. This emphasizes the flowering phase while at the same time produces some of the most spectacular results when it comes to vegetative growth.
Customers who have purchased LED Comet grow lights for use in their hydroponic systems and indoor gardens have consistently given it five-star ratings. One buyer says that "within one week the plant took off like a rocket and has been growing about 1/2"to 1" a day," while another states that he "would recommend this to anyone...[it's] worth every penny."
Two LED Comet models are currently available. The 36 watt Comet 150, priced at only $150.00, will cover between one and two square feet of flowering and up to a square yard in vegetative growth. For indoor gardeners with more plants over a larger area, the 90 watt Comet 400 ($350.00) provides three times the coverage.
Both products are covered by a full, three-year warranty. These products can be ordered online at HIDHut.com or by phone at 1-866-678-8565.
ABOUT HID HUT: Based in Ormond Beach, Florida, HID Hut was founded in 2008 and now offers a complete line of supplies and equipment for the indoor garden, including grow lights, fans, containers, water pumps and educational materials. Customers can also purchase quality outdoor gardening supplies as well as safety equipment.