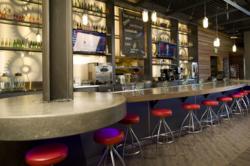 Although we are still primarily a Residential Interior Design Firm, we love the change of pace in working on Clubhouse projects and bringing our sense of Residential aesthetic to the Commercial spaces
Park City, UT (PRWEB) August 08, 2012
Vallone Design is proud to announce the completion of the much anticipated Shed Clubhouse in the private golf community Promontory in Park City Utah. This spectacular community set among the Wasatch Mountains already boasted two Clubhouses along with a members lodge, "Kids only" cabin, equestrian center, outfitters cabin, boathouse and two golf courses with a third one in the planning stages. The Shed Clubhouse is the newest addition in family friendly amenities for this expansive community.
Vallone Designers, Shane Mehrer, Niki Saulino and Donna Vallone pulled together an Interior Design scheme laden with industrial charm, lively colors and unique textures that collectively created an energized interior with sophisticated presence. The main room hosts a number of full size video games, two bowling lanes, shuffleboard and billiards along with casual dining and a large sofa fountain. The soda fountain bar boasts a stunning backdrop of backlit gears and an elegant wood top while pulling through the industrial touch with the diamond plated metal bar fascia. As a hand on labor of love, the majority of the Vallone Design staff worked with the architects, prior to installation, to hand paint the wooden slats that adorn a majority of the main walls in the space. During Park Cities cool winter months, member can sit next to a large four sided fireplace covered in cold rolled steel panels and enjoy the activities going on around the room.
When a little escape is needed, the Vallone Interior Designers created a spacious 50 seat movie theater, outfitted with comfortable upholstered theater seats in multicolored whimsical fabrics. Before catching the movie the members can visit the general store and grab their favorite snack. The design team used unique pieces to create the merchandise display. Pedestal adjustable crank tables hold candles and unique treasures while a one of a kind antique grocers fruit stand purchased by Donna Vallone on an antique buying trip, stands as the main display of candy and goodies. "We enjoyed mixing natural materials like steel, concrete, wood and colored plexi-glass to create a rustic contemporary feel" states Vallone Designer Niki Saulino. She goes on to say "The developer asked to create an environment that is welcoming, fun for all ages and focuses on family" Shane Mehrer reiterates by saying "The design for this space can be defined by the use of unexpected solutions with everyday raw materials. For example we used the thin cedar slats typically used as lathing in gardening applications on the shed's walls in a way that highlighted their texture and gave warmth to the large space while also giving visual interest to the walls."
The diversity of activities continues throughout the building and flows out to the patio and amphitheater. A full basketball court and even an open artist studio give every member and their family a chance to participate in an activity they enjoy. Every attention to detail was paid to provide four season enjoyment. The use of bold colors and different textures throughout each space gives The Shed Clubhouse at Promontory a true welcoming comfort that is functional for all ages. Shane Mehrer says "We truly enjoyed designing this project " " The building is a departure in style from the other buildings on the property but once it was complete it blends so well with the lifestyle Promontory offers its members. " We think many more developers across the country will take notice of the change in these communities towards a more family friendly and interactive atmosphere." "The Shed is a true reflection of the relaxed lifestyle of the members that call this community home."
Vallone Design has been recognized as one of the premier Interior Design Firms not only in Scottsdale Arizona and surround communities but also across the nation. The notable Clubhouse work completed by the Interior Designers at Vallone Design has spearheaded a lot of that recognition. Owner and Lead Designer, Donna Vallone says " Although we are still primarily a Residential Interior Design Firm, we love the change of pace in working on Clubhouse projects and bringing our sense of Residential aesthetic to the Commercial spaces" "One of the things I love to hear most when a Clubhouse project is complete is how at home everyone instantly feels in the spaces" " When we have taken a large Clubhouse space and brought not only the functionality that the developer is looking for but also that welcoming sense that only great Interior Design can bring, we know we have done our job" She goes on to say "Promontory is a stunning development and we have had the pleasure of completing some great homes there and hope to continue to do so as the community continues to grow and evolve."
About Vallone Design:
Founded in 2001 by renowned Interior Designer Donna Vallone, who has more than 30 years of experience, Vallone Design is a leading, full-service interior design firm based in Scottsdale, specializing in classic and exquisite residential and commercial luxury projects across the nation. Through inspired and attentive use of color, texture, lighting and spatial relationships, Vallone Design's residential portfolio spans from traditional and fresh designs to whimsical and modern spaces – all while flawlessly creating timeless and customized looks that match each client's personality. Vallone Design's rounded commercial portfolio includes well-known projects throughout the nation, including Silverleaf Country Club, the spa at Royal Palms Resort & Spa, and Paradise Valley Country Club. Clients are privy to the firm's one-of-a-kind showroom, which houses some of the world's most original antiques and furnishings scouted from around the globe. With a team of award-winning interior designers devoted to the perfection of their craft, Vallone's designs draw inspiration from its surroundings, big and small, to create a timeless ambiance within each space. For more information about Vallone Design please visit them on the web at http://www.vallonedesign.com or follow them on facebook http://www.facebook.com/vallonedesign. For more information on The Promontory Club please visit http://www.promontoryclub.com.