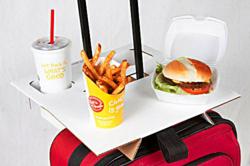 The Layover Table™ is designed to improve travelers comfort and ease during waiting time in airports, bus/train stations or on the go anywhere.
Denver, CO (PRWEB) August 22, 2012
In keeping with their goal to produce eco-friendly travel tables, A&G Consumer Products, Inc. has hit their target again. They first introduced the original, 100% recyclable Layover Table™ in September 2011. This first model is made of durable, corrugated cardboard and was designed as the inexpensive, disposable version (retailing for $6.00) during economically-challenged times. That model was shown in the Travel Goods SHOWCASE - Winter 2011 magazine.
The newest bamboo product is an "exciting addition", states Angela Foster, CEO of A&G Consumer Products, Inc. They chose bamboo as it is a tough, durable wood, that can be stained to resemble most other hard woods or at the same time it can be a natural color that is very popular with today's modern designs. Additional key selling points to using bamboo include:

Availability: Bamboo is the fastest growing woody plant in the world. It can grow up to 24" a day. It can be harvested in just three to seven years — much faster than hardwoods. This makes bamboo highly renewable and a great alternative.
Strength and Durability: Like steel, bamboo can withstand lots of stress while being stretched or pulled, which is why it's used for boats, construction scaffolding and other items that require strength and flexibility. Because it's so tough, it can withstand use over multiple travels.
Eco-Friendly: Bamboo helps promote healthy soil. The plant's deep root systems protect against soil erosion. When harvested correctly, bamboo doesn't require replanting afterward. Plus, bamboo is biodegradable and can be composted after use.
The Layover Table™ is a portable travel table designed to improve travelers comfort and ease during waiting time in airports, bus/train stations or on the go anywhere. The table fits over carry-on luggage to provide the traveler with two cup holders and 7"x14" of working (or eating) space. The compact design fits in most carry-on front pockets. While there are multiple applications for travelers, The Layover Table™ can be used for electronics, food, beverages, reading materials, and for family entertainment.
For more information on this exciting addition or any aspect of The Layover Table™, please visit http://www.layovertable.com or contact Angela Foster afoster(at)layovertable(dot)com, "Like" on FaceBook at http://www.facebook.com/layovertable, or follow on http://www.Twitter @layovertable.