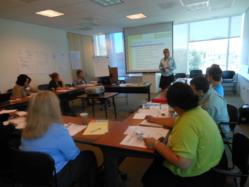 Let's face it, people simply don't like wasting time being stuck in traffic and having to always travel to study something they can learn in their pajamas.
Los Angeles, CA (PRWEB) August 07, 2012
On September 4 – 6, 2012, from 9 a.m. – 4 p.m. Grant Central USA (GCUSA) will be conducting a grant writing retreat in partnership with the Center for Nonprofit Management (CNM) of Los Angeles. Registration is limited to 12 participants to ensure quality learning.
"What do you get when you take just a hand full of people, some laptop computers and a few sample grant proposals mixed with an energetic grant professional for three days? A grant writing retreat you will not soon forget," says Rodney Walker, President of GCUSA. They have crafted an innovative way for new and seasoned grant writers to learn and improve their skills in grant writing by developing a hybrid learning experience combining both in class learning and online training.
"Let's face it, people simply don't like wasting time being stuck in traffic and having to always travel to study something they can learn in their pajamas," says Walker. He continues passionately, "We want to maximize our students experience by allowing them to learn quickly and at a time that is convenient for them and not just suitable for us, so providing both the online grant writing course and retreat solution makes a lot of sense."
The hybrid learning model and online classes has been gaining steady momentum over the past decade. While blended learning is not new it has become an even more cost effective way of delivering information. In 2003, the American Society for Training and Development identified blended learning as one of the top ten trends to emerge in the knowledge delivery industry.
According to a 2009 meta study from the Department of Education: "Students who took all or part of their class online performed better, on average, than those taking the same course through traditional face-to-face instruction. Students who mix online learning with traditional coursework (i.e. blended learning) do even better."
GCUSA has partnered with the CNM to host several of their grant writing classes and retreats. CNM has a 30 year track record of serving the greater Los Angeles area nonprofits and host over 120 workshops annually. "We use to hold a lot of grant writing trainings in-house, but we don't want to recreate the wheel every time so we look towards GCUSA to offer our grant writing trainings online as well as in-person," says Julia Ha Troung, Education Manager at CNM.
This blended learning experience has been received warmly by the participants. "I'm very glad I came to this workshop today. I have written a couple of grants in the past and I'm still in college and I'm always trying to get funding for these different projects and campaigns that I'm doing. But, I've only had these weird Google manuals and random things to go off of and work with before this class," says Daniella Broida, a student at Whitman College. "It was not just a lecture but it was really interactive," says Broida.
It's quite common for the nonprofit sector to lag behind the for-profit sector on several fronts, yet Walker says, "I'm really excited to see the nonprofit world start making more strides in taking advantage of technology to deliver trainings. It really makes a lot of sense. We don't want to throw the baby out with the bathwater, so we need to keep the in-person trainings and workshops. But, we must not ignore the opportunities to use technology wisely to serve our constituents."
To learn more about the grant writing retreat, grant writing webinars or online learning opportunities visit GrantWritingOnlineCourse.com or call 1.888.293.0284.