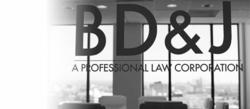 Beverly Hills, CA (PRWEB) August 07, 2012
The Law Offices of Banafsheh, Danesh & Javid, P.C. have recently obtained a $1 million settlement for their clients who were involved in an SUV vs. Large Truck accident in West Covina (Los Angeles Superior Courts, Case No. KC061695). The accident occurred on Valley Blvd. just east of San Angelo Ave.
According to court documents, the plaintiffs were traveling eastbound on Valley when the light they were approaching turned yellow. They stopped their vehicle at the intersection and were rear-ended by the defendant who was driving the large moving truck, causing damage to their SUV and injuries to the occupants.
The truck accident lawyers at Banafsheh, Danesh & Javid, P.C. used the facts of the collision to help illustrate that the defendant was at fault for the accident, allowing them to obtain the settlement on behalf of their client. According to the police report the defendant was traveling at 40 mph, a high rate of speed for a crowded city street.
Section 22350 of the California Vehicle Code states that:
"no person shall drive a vehicle upon a highway at a speed greater than is reasonable or prudent having due regard for weather, visibility, the traffic on, and the surface and width of the highway, and in no event at a speed which endangers the safety of persons or property."
The million dollar settlement was obtained for the damages to the SUV and for the injuries sustained by its occupants as a result of the accident.
About Banafsheh, Danesh & Javid, P.C.
Banafsheh, Danesh & Javid, P.C., is a well-respected Beverly Hills, CA personal injury law firm that serves clients throughout California. The firm maintains offices in Los Angeles, Orange County, San Francisco, San Diego, Riverside, San Bernardino, San Jose, and Sacramento. The firm's http://www.bdjinjurylawyers.com handle cases on a contingency fee basis, not charging a fee unless they can gain a recovery for their clients. They practice all form of personal injury law including but not limited to truck accidents, motorcycle accidents, car accidents, pedestrian injuries, brain injuries, wrongful death and other serious injury claims.
The firm also features a staff that speaks Spanish, Italian, Farsi and Hebrew in addition to English and offers free consultations via their toll free number 800-820-1111.